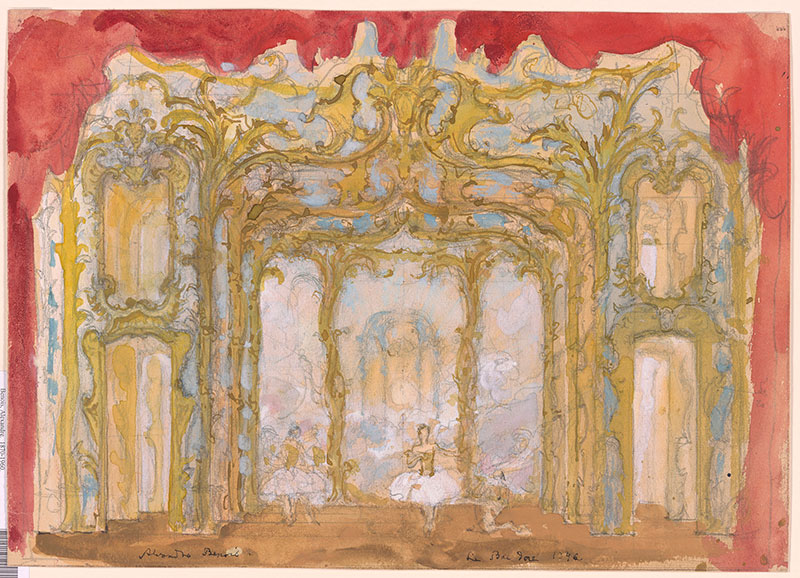 Gouache, watercolor and black chalk on paper.
9 7/16 x 13 1/8 inches (240 x 333 mm)
The Joseph F. McCrindle Collection.
Inscription:
Inscribed at lower left in pen and black ink, Alexandre Benois"; "Le Bal Dore 1946". inscribed on verso in black chalk, "Alexandre Benois / Le Bal Dore / 2ns Tableau 'La Reve' / [...]".
Provenance:
Joseph F. McCrindle, New York (McCrindle collection no. A0044).
Notes:
In this mixed media sheet, Benois presents a set design for a scene from Leandre Vaillat (1878-1952) and David Lichine's (1910-1972) ballet "The Enchanted Mill," a light-hearted romantic comedy in three scenes. The ballet premiered on 14 July 1949 at the Théatre des Champs-Élysées in Paris, and was subsequently staged at the Royal Opera House in London and the Century Theater in New York (Robinson 2001, p. 34). In addition to "The Enchanted Mill," Benois was the designer of a number of Lichine's ballets, including their first collaboration together on "Graduation Ball" (1940) and the "The Nutcracker" (1957), which gave 215 productions at the Royal Festival Hall in London (Robinson 2001, p. 12). In this sheet, Benois presents a study for the second scene of the ballet, titled "The Dream: The Golden Ball." Here, the dancers are enshrined in a dazzling architecture of gold, evoking both lush decoration of Rococo interiors and the botanical forms of Art Nouveau. Works cited: Richard Buckle, Alexandre Benois, 1870-1960: Drawings for the Ballet, exh. cat., (London, 1980); Anne Robinson, "The Work of the Dancer and Choreographer David Lichine (1910-1972): 'A Chronology of the Ballets with a Brief Critical Introduction,' " Dance Research: The Journal of the Society of Dance Reseach, vol. 19 (Winter 2001), pp. 7-51.
For Marquis de Cueva's "Ballet de Monte Carlo".