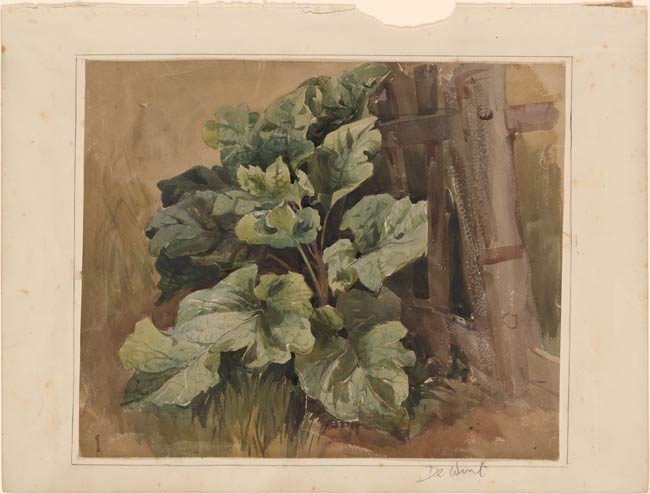 Butterbur by a Paling Fence
10 1/16 x 12 3/16 inches (255 x 309 mm)
The Joseph F. McCrindle Collection.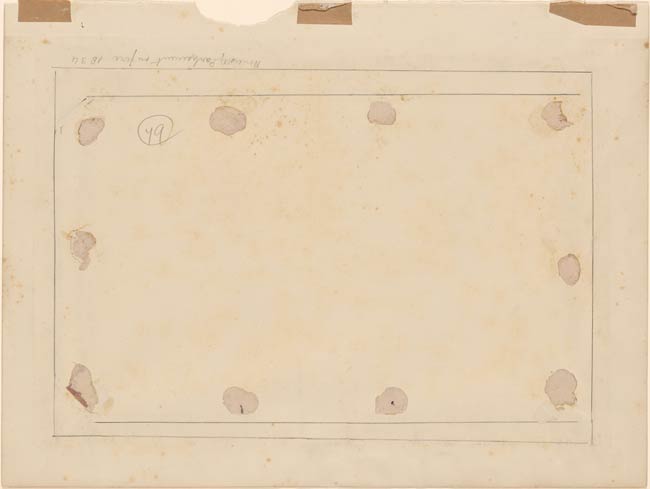 Inscription:
Inscription on mount in graphite, "De Wint".
Provenance:
Appleby Brothers, London, from whom purchased in 1961 by Joseph F. McCrindle, New York (McCrindle collection no. A1200).
Notes:
One of the premier British watercolorists, Peter De Wint was born in Hanley, Staffordshire, in 1774. The son of a doctor, De Wint planned to enter the medical profession before deciding to become an artist. He trained with John Raphael Smith, a mezzotint engraver and portrait painter whose tutelage he eventually abandoned, a decision which required him to give the painter eighteen oil paintings in lieu of his remaining apprenticeship. Focusing on landscape, DeWint was admitted to the Royal Academy School in 1809 and was elected a member of the Society of Painters in Water-colours two years later. He exhibited his works at both institutions throughout his career. DeWint was also a prolific teacher with dozens of students. A chronology of De Wint's oeuvre is difficult, as he rarely signed or dated his works. He most often produced landscapes in watercolor, although he also created some oil paintings and topographical illustrations. His views of the countryside, while naturalistic, do not reflect the growing prominence of machinery in farming at this time. Studies like this one, of leaves and grass growing against a picket fence, were most likely used for the foreground of more highly finished watercolors. Similar works are Dock Leaves, in the Usher Gallery, Lincoln, and Grasses and Weeds in the collection of the late Sir Geoffrey Harmsworth (fig. no. 72 in Hammond Smith, Peter DeWint 1784-1849, London, 1982). Describing his technique, Evelyn Joll wrote, "A heavily loaded brush, dragged across a rough absorbent paper, gives de Wint's drawings the appearance of being hardy yet dry." (See Loan exhibition of painting and drawings by P. de Wint, 1966, p. 3.) Here De Wint used the texture of the paper to mimic the rough texture of the fence, while also used bits of exposed while create a smooth gloss on the sun-dappled leaves.
Exhibitions: William Benton Museum of Art (Connecticut) British drawings and watercolors: a selection from the J.F. McCrindle collection on indefinite loan to the William Benton Museum of Art. Storrs, Conn.: The Museum, 1974. Cat. no. 35
Associated names:
McCrindle, Joseph F., former owner.