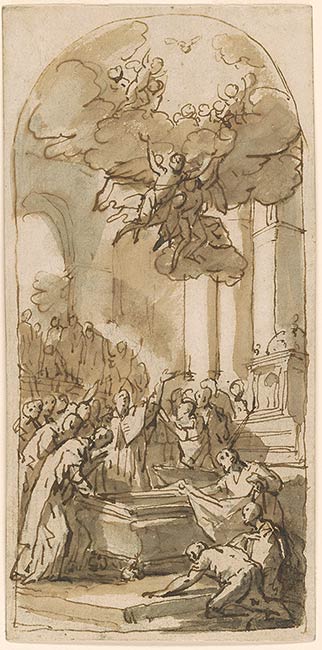 The Assumption of the Virgin
Pen and brown ink with brown and gray wash on laid paper.
7 1/16 x 3 7/16 inches (179 x 88 mm)
The Joseph F. McCrindle Collection.
Provenance:
P. & D. Colnaghi & Co. Ltd., London; from whom acquired by Joseph F. McCrindle, New York, 17 August 1966 (McCrindle collection no. A0636).
Summary:
Luyken, known for living a secluded life, is noted for writing mystic poetry that he adorned with emblematic prints. He became enthralled by the religious teachings of Jacob Böhme (1575-1624). He converted to the Pietist movement, then in its initial phase, in 1673 and he created a hearty output of works of sacred subjects. It is likely that this pen and ink sketch with wash is a study for an engraving (Luyken produced 3,275 works in that medium) or a painting. The rounded frame is unusual for Luyken, who generally preferred rectangular frames for his drawings.
Associated names:
McCrindle, Joseph F., former owner.