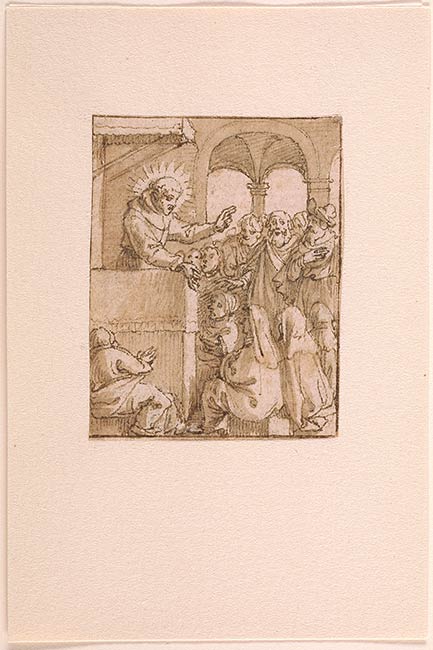 Scene from the Life of a Bishop Saint
Pen and brown ink and wash, indented for transfer, on paper.
1 15/16 x 1 1/2 inches (49 x 38 mm)
The Joseph F. McCrindle Collection.
Provenance:
Anthony Freire Marreco; P. & D. Colnaghi & Co., Ltd., London; Sven H.A. Bruntjen, Woodside, California; from whom acquired by Joseph F. McCrindle, New York, 19 February 1983 (McCrindle collection no. A0526A).
Bibliography:
Exhibition of Dutch and Flemish Drawings, 16th-19th Century. London: P. & D. Colnaghi & Co., Ltd., 1976, cat. no. 4.
Summary:
The present sheet, according to the scholar Egbert Haverkamp-Begemann, is by Pieter de Jode I, a Flemish Baroque draughtsman and engraver who spent nearly a decade in Rome beginning in 1590. Haverkamp-Begemann suggests this fine drawing was probably made for an illustrated book. It was common for De Jode to work in pen and ink and then for the drawing to be traced and printed.
Associated names:
Marreco, Anthony Freire, former owner.
McCrindle, Joseph F., former owner.