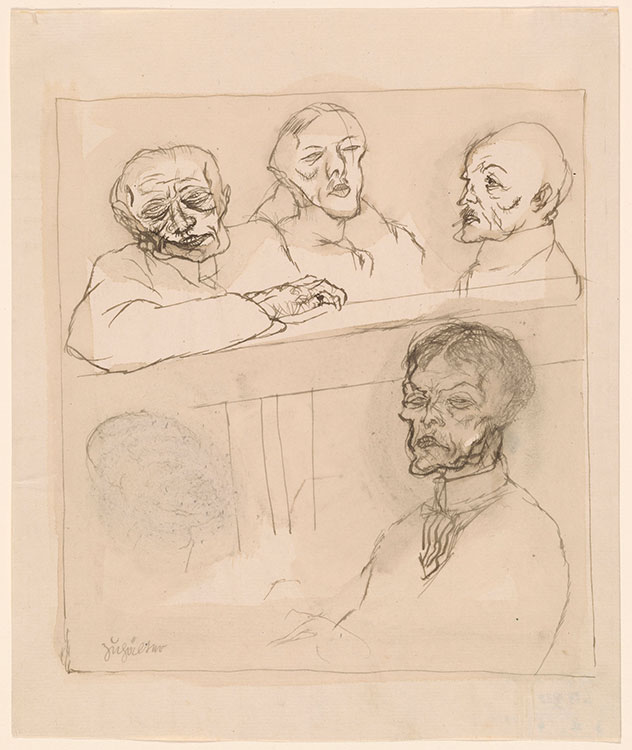 Reed pen and pen and ink and wash on laid paper.
10 1/2 x 8 7/8 inches (266 x 225 mm)
The Joseph F. McCrindle Collection.
Inscription:
Inscribed at lower left, "Zuhalter" [Pimps]; stamped with the Grosz Estate Stamp (George Grosz Nachlass) on verso at lower left and numbered "3-32-4".
Provenance:
Princeton Fine Arts Gallery, Princeton, New Jersey; from whom acquired by Joseph F. McCrindle, New York, 2 June 1973 (McCrindle collection no. A0514).
Notes:
In 1912, following his artistic training in Dresden, George Grosz moved to Berlin and soon began working as a caricaturist and illustrator in order to earn money for his "everyday needs." Abandoning the studied formality of his Dresden period, Grosz's early Berlin drawings are rapidly sketched, free studies out of which urban grotesqueries of lust, greed, and violence emerge. In "Pimps," Grosz presents a gruesome portrait gallery of Berlin's sexual underbelly, the ghoulish skeletal visages of the pimps standing as a scathing mirror of what Grosz perceived as Berlin's moral depravity and licentiousness.
Related Literature: Ralph Jentsch, George Grosz: Berlin-New York (Milan: Skira, 2008), esp. pp. 39-56; Ralph Jentsch, George Grosz: The Berlin Years (Milan: Electa, 1997).