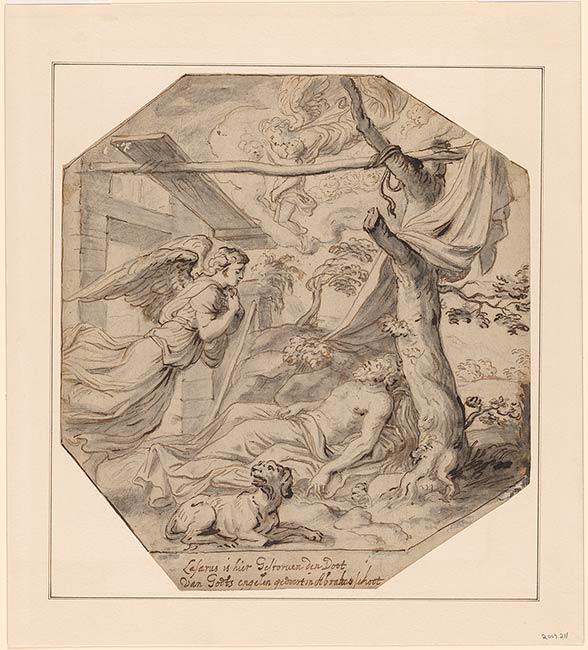 Pen and brown ink and black chalk on laid on paper.
11 13/16 x 10 3/4 inches (300 x 273 mm)
The Joseph F. McCrindle Collection.
Inscription:
Inscribed in pen and brown ink, "Lazarus is hier gestorven den Doot / van Godts engelen gevoert in Abrahms schoot"
Provenance:
A.B. Triggs, sale, Sydney, November 1945, lot 11 (as Rubens); P. & D. Colnaghi & Co., Ltd., London; from whom acquired by Joseph F. McCrindle, New York, 25 February 1969 (McCrindle collection no. A0326a).
Notes:
This series of three drawings, all in octagonal format, depict the parable of Lazaraus and the Rich Man from the Gospel of Luke, 16:20. According to the text, Lazarus was a beggar who sought crumbs from the Rich Man's table but was refused. Upon his death, Lazarus was carried by angels to the bosom of Abraham; this event is the subject of first drawing. In contrast, when the Rich Man died, he went to hell. While in hell, as can be seen in the third drawing, the Rich Man sees Lazarus in heaven and begs him for a drop of water. Abraham reminds the Rich Man that he received good things in his lifetime, while Lazarus suffered, but now he faces torment and Lazarus is comforted. Confirming the subject are rhyming couplets in Dutch below each image. Van Diepenbeeck may have made the series as designs for prints, although none related are known, or possibly for ceiling paintings.
1 of 3 drawings on the same subject (2009.111-13).
Associated names:
McCrindle, Joseph F., former owner.