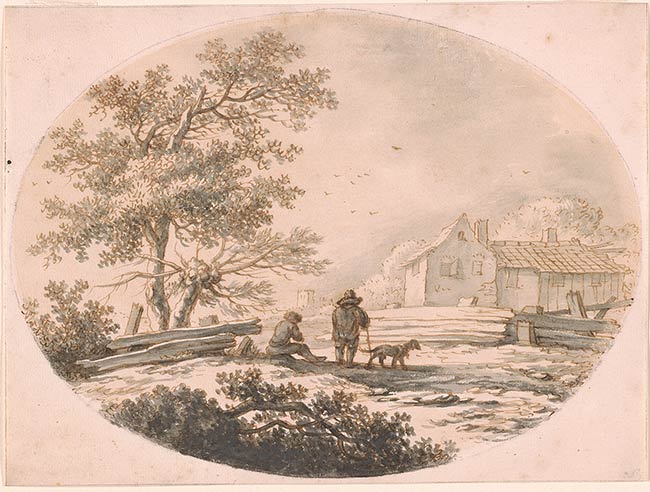 Landscape Figures outside a Farmhouse
Pen and brown ink, and black ink and wash on paper.
6 15/16 x 9 5/16 inches (176 x 236 mm)
The Joseph F. McCrindle Collection.
Inscription:
Inscribed on verso, in pen and brown ink, "A. ter Himpel/Delft 1650".
Watermark: Lion, holding wheat sheaves and sword, in double circle surmounted by a crown.
Provenance:
Sven H.A. Bruntjen, Woodside, California; from whom acquired by Joseph F. McCrindle, New York, 12 December 1988 (McCrindle collection no. C0033).
Summary:
Egbert Haverkamp-Begemann believes that this drawing is in the style of Aarnout Ter Himple. Ter Himpel, who frequently looked to Rembrandt for inspiration, made his reputation with his landscape drawings, which are often circular or oval in shape. The present oval sheet depicts two figures and a dog in a rustic setting; the circular and oval shape of many of Ter Himpel's drawings suggests that they were designs meant to decorate pocrelain plates.
Associated names:
McCrindle, Joseph F., former owner.