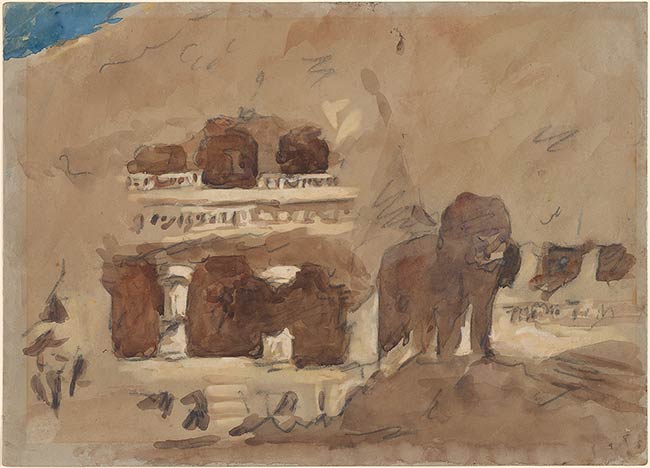 Hercules Brabazon Brabazon
Watercolor with graphite on paper.
10 1/16 x 14 inches (255 x 355 mm)
The Joseph F. McCrindle Collection.
Provenance:
Red Cross Society, 1940; Christie's (?), from which purchased in 1940 by Joseph F. McCrindle, New York (McCrindle collection no. A1445).
Bibliography:
Hercules Brabazon Brabazon, NEAC (1821-1906), exh. cat. (London, 1989).
Summary:
Brabazon trained for a short time under James D'Egville and Alfred Downing Fripp, however he was largely self-taught. On trips to Spain, Italy, Egypt, the Indies, France, and elsewhere, Brabazon executed scores of landscapes in watercolor and other media. The present drawing likely dates to the time Brabazon spent in India as the drawing's erso bears the inscription "Ellora." Ellora, located not far from Aurangabad, in Maharashtra, is a series of 34 monasteries and temples that extend over two kilometers. Brabazon's drawing emphasizes the deep recesses of the complex, which was devoted to Buddhism, Hinduism and Jainism. Set in the wall of a high basalt cliff, Ellora is the largest rock-hewn monastic-temple complex in the entire world.
Associated names:
McCrindle, Joseph F., former owner.