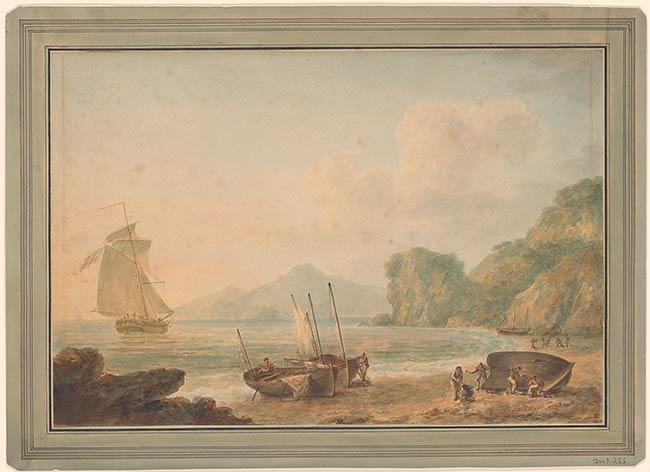 Boats Beached in Rocky Bay
Watercolor over black chalk on paper lined to decorative mount.
10 7/16 x 15 3/8 inches (266 x390 mm)
The Joseph F. McCrindle Collection.
Inscription:
Inscribed at lower right in black ink, "N. Pocock 1792".
Provenance:
Dowager Lady Manners, London; Sotheby's, London, 8 March 1961, lot 34; Appleby Bros. Ltd., London; from which acquired by Joseph F. McCrindle, New York, 8 December 1964 (McCrindle collection no. A0820).
Notes:
Nicholas Pocock, English painter and watercolorist, began his career as a sailor at sea. However, in 1780 he decided to give up command of the merchantman the Lloyd and attend the Royal Academy in London. For the duration of his artistic career, he traveled extensively and produced seascapes along his journeys, much in the style of seventeenth-century Dutch painter Willem van de Velde (1633-1707). The 1790s were productive years for Pocock, and the majority of his most ambitious watercolors date to this period (David Cordingly, Nicholas Pocock 1740-1821, London, 1986, p. 52). In 1792, the year Pocock executed this watercolor, he went on a sketching tour in Snowdonia, North Wales. While Pocock probably sketched aspects of this composition while in North Wales, the polished quality of the landscape and figures suggests he finished the composition in his studio upon his return to London.