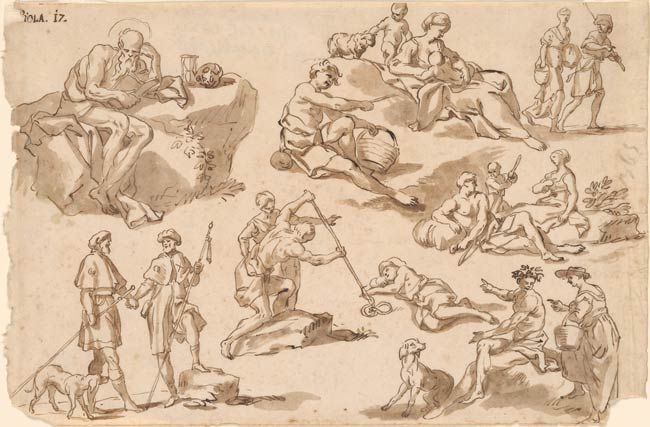 A Sheet of Studies with Saint Jerome
Pen and brown ink and wash on laid paper.
Maximum dimensions: 11 1/4 x 12 5/8 inches (202 x 307 mm)
The Joseph F. McCrindle Collection.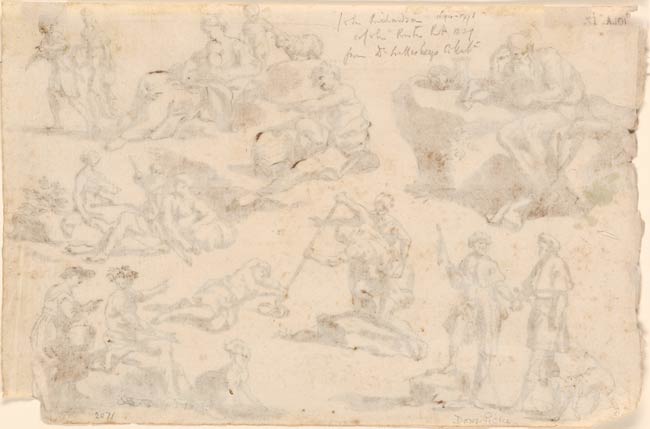 Inscription:
Inscribed as upper left, in pen and brown ink, " Piola i 7."; inscribed on verso in black chalk, "John Richards [?] 1694-1771 / of the British RA 1829 / [...]".
Provenance:
Joseph F. McCrindle, New York (McCrindle collection no. A0805).
Notes:
Several vignettes with religious, mythological, and genre figures, active and inactive, and groups of figures populate this drawing by Piola. Saint Jerome sits on a rock in the upper left hand corner, while two pilgrims (identifiable by their shell-shaped pilgrim badges) accompanied by a dog appear at lower left and a woman sits with two children and a lamb at upper center (possibly a study for a work featuring the Virgin and Child and John the Baptist?); six other groups of figures are depicted sitting, walking or, in one case, spearing a snake with a stick. Similar drawn arrangements, albeit of a lesser quality and likely by a Piola workshop member, such as a sheet that includes a Baptism of Christ in the Art Institute of Chicago and one in the Dusseldorf Kunstmuseum, attest to the artist's predeliction for such composed sketchbook pages (inv. 1927.7639; Alessandro Magnasco 1667-1749, exh. cat., Milan, 1996, pp. 298-9, under cat. 99, repr. and inv. FP6565; Alessandro Magnasco 1996, pp. 320-1, under cat. 108, repr.). Like his fellow Genoese artists Sinibaldo Scorza (1589-1631) before him and Alessandro Magnasco (1667-1749) after him, Domenico Piola produced carefully composed sheets replete with figure studies. Possibly part of a single sketchbook, sheets such as the present example provided a repertoire of forms which could be used as the need arose in order to develop more elaborate compositions. A comparable example by Scorza, who, however, favoured animal over figure studies, is in the Louvre, Paris (inv. 9559; Le dessin à Genes de XVI au XVIII siècle, exh. cat., Mary Newcome Schleier and Catherine Monbeig Goguel, Paris, Louvre, 1985, cat. 62, fig. 62, repr.). Examples of sketchbook pages by Magnasco clearly demonstrate the strong influence that one artist must have had on the other. See for instance examples of Magnasco's work in the Uffizi, Florence, and in Genoa (inv. 7081; Genoa, Collezione Puccio-Prefumo; Genoa, Palazzo Bianco, inv. 2467; Benno Geiger, I disegni del Magnasco, Padua, 1945, p. 48, 53, 54, pls. 26-28, repr.), or for individual figures, such as a seated seminude man, travelers, and two shepherds, in sketches in the Uffizi and in a private collection (inv. 7066; inv. 7082; Geiger 1945, p. 48, pl. 13; Geiger 1945, p. 46, pl. 3; Geiger 1945, p. 82, pl. 20). As witnessed by the Morgan drawing, however, Piola's style is more finished in comparison to Magnasco's sketchier draftsmanship. --Sean Leatherbury