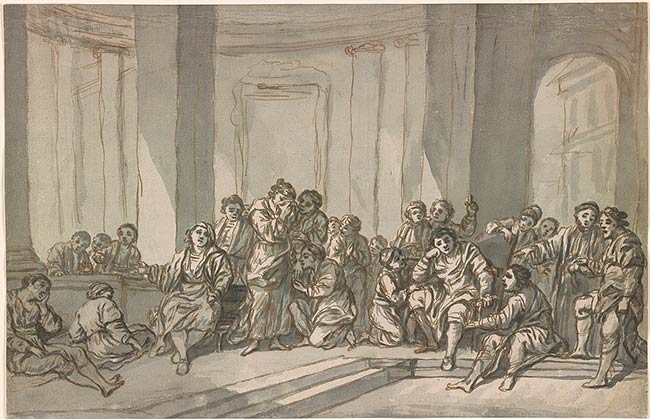 Formerly attributed to Nicolaes Maes
Pen and brown ink and gray wash on laid paper.
10 7/16 x 15 5/16 inches (220 x 355 mm)
The Joseph F. McCrindle Collection.
Inscription:
Inscribed on verso in black chalk, "The Adultress / J.V.D. [?] Eckhart".
Watermark: Two lines of text including "JPH(Fleur-de-lis)CVSSON ..FIN? AUVERGNE".
Provenance:
George Marshall, Toronto; Joseph F. McCrindle, New York (McCrindle collection no. A0642).
Notes:
Traditionally, the subject of this work was thought to be an adulteress. In the scene, a woman stands with her head in her hands surrounded by onlookers. Two women at her side appear to comfort her, while a man sits on a chair nearby. On either side of him are two other figures; one has his arm outstretched while the other rests his hand on his knee. With its horizontal format, condensed architectural background, and foreground step, this drawing has a theatrical character reminiscent of a stage set. The geometric forms of the architecture, pillars, and the robes of the figure suggest an antique setting. The drawing was given to Maes at least since the time that it entered the McCrindle collection. It is unlikely to be by Maes and may well be eighteenth-century French.
Associated names:
McCrindle, Joseph F., former owner.