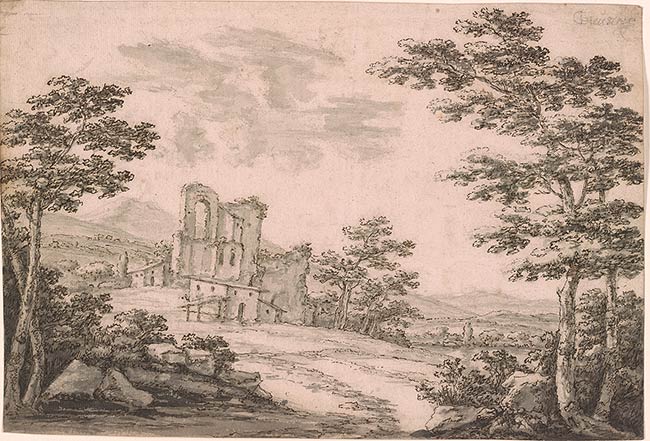 Landscape with Trees and a Ruin
Iron gall ink with gray wash and black chalk on laid paper.
7 1/16 x 10 1/2 inches (180 x 267 mm)
The Joseph F. McCrindle Collection.
Inscription:
Inscribed at upper right in black chalk: "J [?] Heusch".
Watermark: Lion, holding wheat sheaves and sword, in double circle surmounted by a crown, letters "AJ" below circle.
Provenance:
P. & D. Colnaghi & Co., Ltd., London; from whom acquired by Joseph F. McCrindle, New York, 6 December 1965 (McCrindle collection no. A0538).
Notes:
Formerly attributed to Jacob de Heusch (Utrecht 1656-1701 Amsterdam).
Summary:
Egbert Haverkamp-Begemann feels that this drawing is not by Jacob de Heusch, to whom it was formerly attributed. Jacob de Heusch was a student of his uncle, Willelm de Heusch, and he spent several years in Italy where he primarily painted and drew Italian landscapes with figures. Haverkamp-Begemann argues that this drawing was instead produced by a Dutch artist in the late seventeenth century.
Associated names:
Heusch, Jacob de, 1656-1701, Formerly attributed to.
McCrindle, Joseph F., former owner.