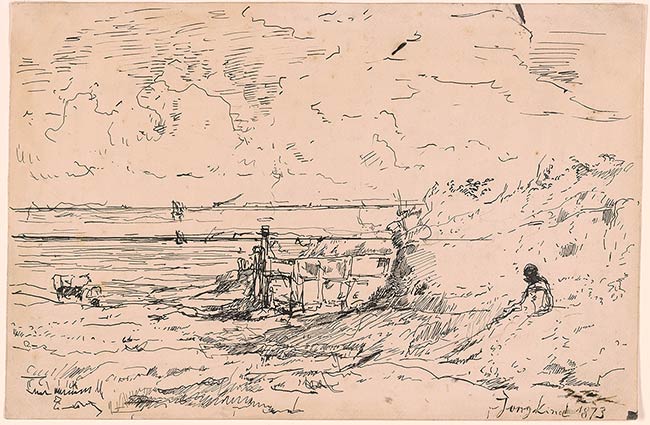 Coastal Dunes with Cattle and Figure
Pen and black ink on paper.
7 1/2 x 11 3/4 inches (191 x 299 mm)
The Joseph F. McCrindle Collection
Inscription:
Inscribed at lower right in pen and black ink, "Jongkind 1873".
Provenance:
Joseph F. McCrindle, New York (McCrindle collection no. A0535A).
Notes:
In 1873, Johan Barthold Jongkind was rejected from the Salon, perhaps prompting a trip to southern France, specifically the towns of Marseille and Avignon. Nineteenth-century author Louis Adolphe Poitout commented that "this trip to le Midi. . . provided him with a happy diversion" (Adolphe Poitout, Johan Barthold Jongkind (1819-1891), vu par un ami de la famille Fesser. Manuscrit inédit de Louis Adolphe Poitout rédigné entre 1893 et 1905-1910. Paris, 1999. p. 38). This rapidly executed drawing in pen and black ink exhibits a graphic brevity typical of the artist's sketches "en plein air." The scene, featuring a figure sitting on a coastal dune, does not correspond to his known paintings of the ocean and port of Marseille during this period (Adolphe Stein, Jongkind: Catalogue Critique de l'Oeuvre. Paris, 2003, p. 270, nos. 706-708). However, the date "1873" inscribed at the lower right corner in pen and black ink strongly suggests that this drawing was, in fact, made during this journey.
Associated names:
McCrindle, Joseph F., former owner.