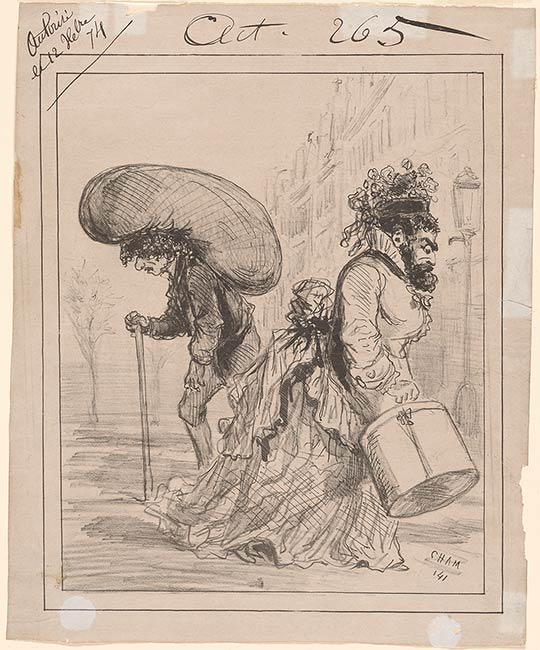 Black chalk and pen and black ink on paper.
10 11/16 x 8 11/16 inches (272 x 221 mm)
The Joseph F. McCrindle Collection.
Inscription:
Inscribed at lower right in pen and black ink, "CHAM '41"; inscribed at top center, "Act. 265".
Provenance:
Joseph F. McCrindle, New York (McCrindle collection no. A0298).
Notes:
Cham was the pseudenym of Amédée-Charles-Henri Noe.
Summary:
Little is known about le comte de Noé, called Cham, whose father, a French nobleman, pushed his son to attend the prestigious École Polytechnique. Cham reportedly bribed an examiner, but failed as a result. An attempt at a bureaucratic career was abandoned and Cham became a prolific cartoonist. His distinctive grotesque "puppets" were published along with witty captions that alluded to contemporary political and social issues. Unlike others--Honoré Daumier (1808-1879) for example--Cham wrote his own captions, as noted by Karen Leader (email correspondence, July 2012). Elizabeth Childs hypothesized that this drawing probably appeared in Le Charivari under the series "Actualites" in or around 1874, given that the date authorizing production appears above the upper right corner of the drawing (email correspondence, July 2012). Childs also raised the possibility that it might satirize a politician in the Third Republic who favored the needs of the haute bourgeoisie, which is suggested by the fancy dress of the figure on the right.
Associated names:
McCrindle, Joseph F., former owner.