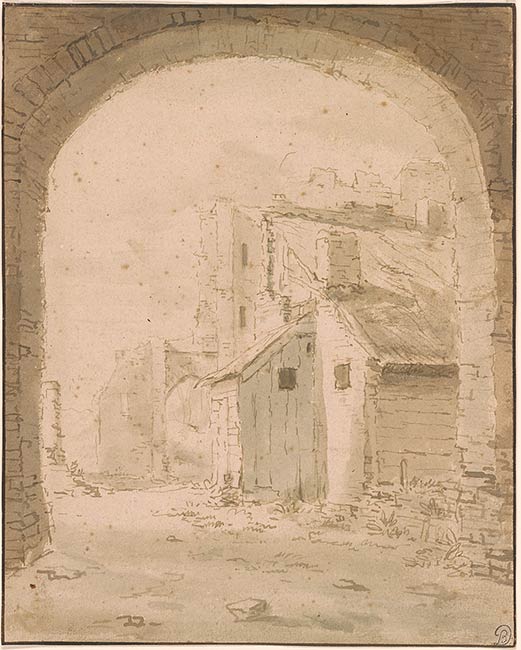 Farmhouse Seen Through an Arch
Pen and brown ink with brown and gray wash on paper.
7 13/16 x 6 1/4 inches (199 x 159 mm)
The Joseph F. McCrindle Collection.
Provenance:
Jacques Auguste Boussac (b. 1885), (Lugt Supplement, 729b); his sale, Paris, Galerie Georges Petit, 10-11 May 1926, lot 1; M.F. Feder, New York; Joseph F. McCrindle, New York (McCrindle collection no. A0017).
Summary:
Jan Asselijn produced copious numbers of drawings and two of his sketchbooks survive, although pages of one have been dispersed. His graphic works are primarily populated by ruins, buildings, and landscapes. A masonry portal, darkened by shadows, frames the view onto a humble edifice in this pen and brown ink drawing. Asselijn used a similar compositional device in several of his paintings, including a striking example in Hartford, Connecticut now at the Wadsworth Atheneum. While he sketched both outdoors and in the studio, the subject matter of the present drawing suggests that it was rendered outside.
Associated names:
Boussac, Jacques Auguste, 1885- former owner.
Feder, M. F., former owner.
McCrindle, Joseph F., former owner.