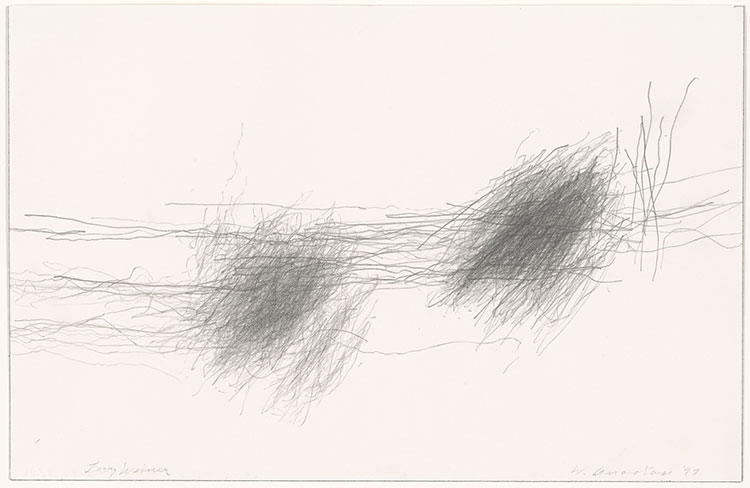 Without Title [Subway Drawing] Larry Weiner
Graphite pencils on wove paper; removed from watercolor block?
7 7/8 x 12 3/16 inches (20.1 x 31.0 cm)
Gift of the Modern and Contemporary Collectors Committee, 2008.
Inscription:
Inscribed lower left, "Larry Weiner"; signed and dated lower right, "W. Anastasi 97".
Provenance:
The artist; Björn Ressle Gallery, New York.
Notes:
Working in the tradition of Marcel Duchamp and John Cage, conceptual artist William Anastasi began in the 1960s to create paintings, sculptures, photographs, and drawings relying on chance procedures and other non-visual principles. Untitled (Subway Drawing to Larry Weiner) belongs to a major series of blind drawings-i.e., executed without looking at the sheet of paper-made while riding the subway. Sitting with a drawing board on his lap and holding a pencil in each hand, Anastasi records the movement and vibration of the train on the sheet, somewhat as would a seismograph. The resulting drawing shows a vibrant linear network with a concentration of marks where the artist's hands were most stable. An inscription indicates that the drawing was made on the way to visit fellow conceptual artist Lawrence Weiner.