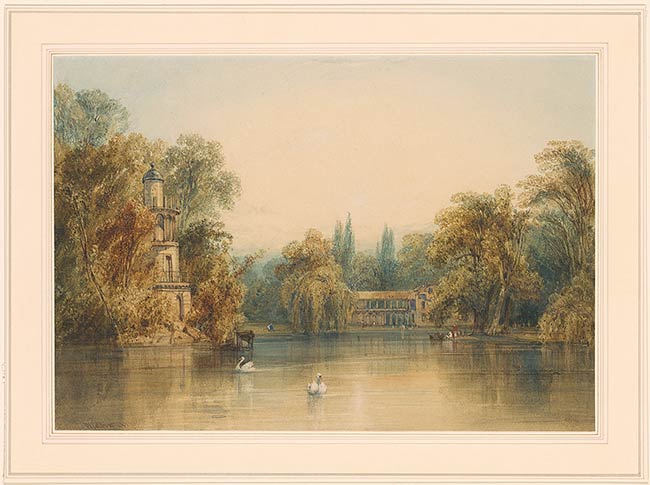 The Garden at Versailles with the Fishing Temple (Petit Hameau de la Reine, Versailles)
Watercolor, heightened with gouache on paper.
7 13/16 x 11 1/4 inches (198 x 286 mm)
Purchased on the Sunny Crawford von Bulow Fund 1978.
Inscription:
Signed and dated lower right, "1837".
Provenance:
The Fine Art Society; private collection, U.K.; acquired from Andrew Clayton Payne, Ltd., London.
Notes:
The highpoint of Callow's long career as a watercolorist was during the 1830s, when he shared a studio in Paris with Thomas Shotter Boys and felt the influence of Richard Parkes Bonnington. During this time he obtained permission to visit the private gardens at Versailles to produce a series of illustrations to London publisher Charles Heath's Picturesque Annual for 1839-Versailles. The lively Bassin de Neptune (2007.83) features a fountain designed by Andre le Nôtre in 1678-82 with a sculptural group of Neptune and Amphitrite executed in 1740 by Lambert-Sigisbert Adam. The more contemplative Petit Hameau records Marie Antoinette's private rustic retreat constructed in 1783.