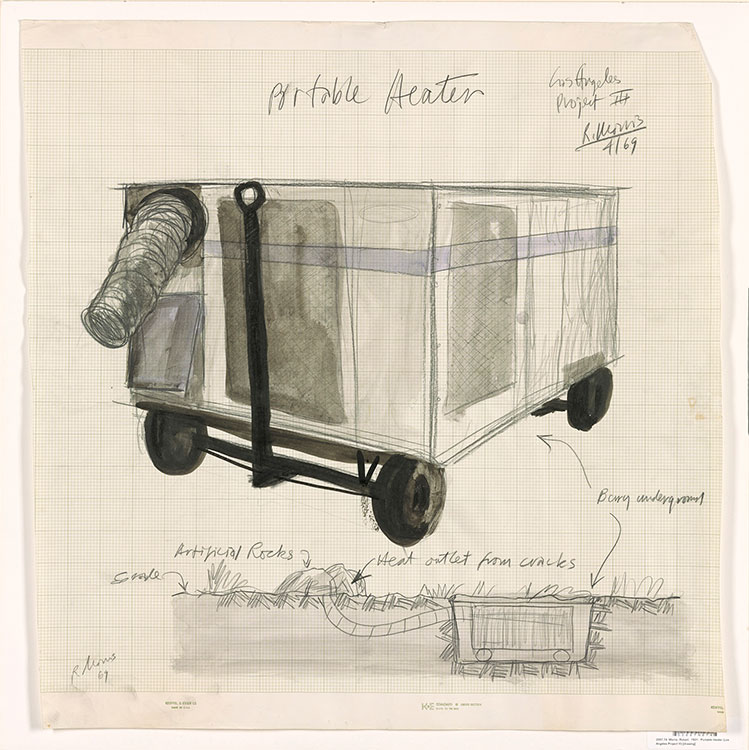 Portable Heater (Los Angeles Project III)
Graphite pencil, brush and ink, wash, and watercolor on graph paper.
22 x 21 3/4 inches (559 x 552 mm)
Gift of the Modern and Contemporary Collectors Committee.
Provenance:
Leo Castelli Gallery, New York.
Notes:
Robert Morris first achieved his reputation as a minimalist sculptor in the early-1960s. Later in that decade, he turned to large-scale monuments and earthworks. The present drawing is related to the "Art and Technology" project organized by the Los Angeles County Museum in 1969 to bring arists in contact with the resources of modern industry and technology. Morris proposed burying giant heaters and air conditioners in a landscape in order to affect locally its climate. His proposal, which was not realized, shows the interest of late twentieth-century artists in nonvisual phenomena in art--in this case, a concern with temperature and atmosphere. In such projects drawings acquire a special value as the main records of the event or its concept.