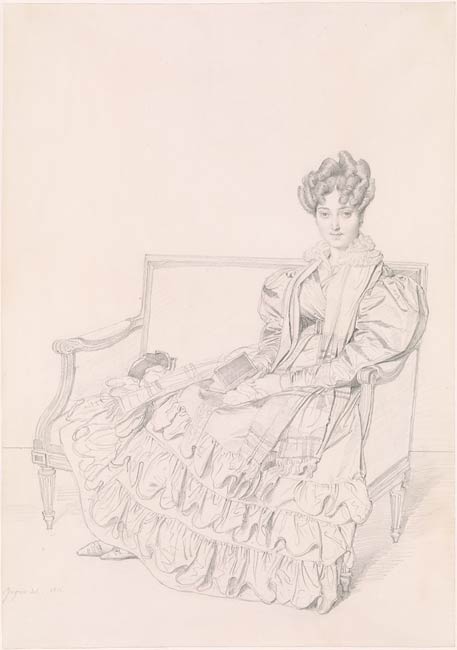 Jean-Auguste-Dominique Ingres
Portrait of Madame Adolphe-Marcellin Defresne, née Sophie Leroy
17 1/8 x 12 inches (433 x 305 mm)
Provenance:
Adolphe-Marcellin Defresne (1793-1869); Charles-Victor) Guillaume-Marcellin Comte de Fresne, Paris (descendant of Defresne, who died without issue in 1891); Mme Edouart-Henri Marcier de Lostende, born Cecile-Elisabeth-Philiberte de Lostende de Reignefort (died in Paris in 1916; widow of the son of Marie-Phillipe Mercier and of his wife, nee Adele Leroy, who was Sophie's sister), or from her daughter Marquise Jean-Marie-Barthelemy de Las Cases, nee Madeleine Marcier de Lostende de Las Cases (died at the Chateau de la Presle near Moulins 1898); Jean Marie-Barthelemy Marquis de Las Cases (widower of the last; died 1923); Amedee Gay (died 1957) and his wife, nee Jacqueline des Las Cases (daughter of the former, died 1976); Marianne Feilchenfeldt and her son, Walter Feilchenfeldt, Zurich; Eugene V. and Clare E. Thaw, New York.
Bibliography:
The Morgan Library & Museum, New York, NY, "Drawn to Greatness: Master Drawings from the Thaw Collection", 2017. Exh. cat., no. 205, repr.
The Thaw collection of master drawings : acquisitions since 2002. New York : Morgan Library & Museum, 2009, no. 19, repr.
Notes:
By the 1820s, Ingres's exasperation with drawn portraits led him to complain: "I don't want to do [portraits] any more. ... It's a considerable waste of time, fruitless effort, given the dryness of the subject matter." His portraits from this period thus tend to feature friends and intimates. Appointed secretary-general of the Seine in 1826, Defresne also owned at least two paintings by the artist. Adolphe-Marcellin was thirty-two years old when he commissioned this portrait of himself in 1825. That summer, he married the fifteen-year-Old Sophie Leroy; the artist depicted the new Madame Defresne the following year. -- Exhibition Label, from "Drawn to Greatness: Master Drawings from the Thaw Collection"
Associated names:
Thaw, Eugene Victor, former owner.
Thaw, Clare, former owner.