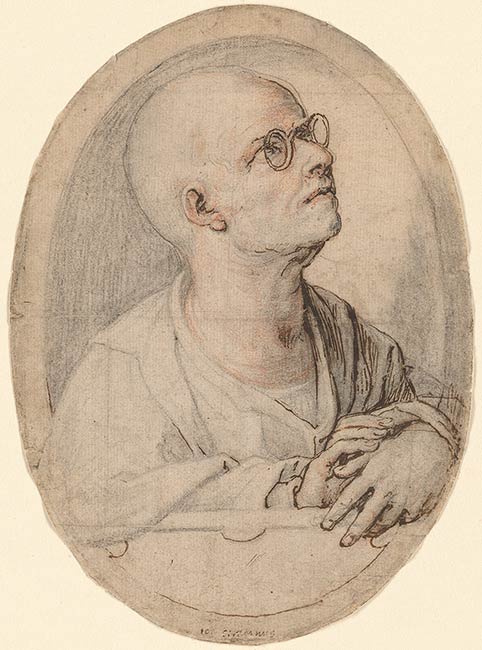 Pen and brown ink, black and red chalk, on paper.
8 1/4 x 6 1/4 inches (210 x 160 mm), oval
Gift of William M. Voelkle in memory of Felice Stampfle.
Inscription:
Signed (?) at lower center in pen and brown ink, "io[?] stradanus".
Provenance:
Ifan Kyrle Fletcher (1905-1969), London; from whom acquired by William M. Voelkle, New York, in 1969.
Notes:
Watermark: fragment.
A painter, draftsman, and designer of tapestries, Stradanus trained in Bruges and Antwerp before settling in Florence, where he became active in the Mannerist circle of artists around Giorgio Vasari. Dorine van Sasse van Ysselt, conservator in the Department of Old Master Drawings at the Netherlands Institute for Art History, The Hague, suggests that the drawing belongs to a series of studies and finished drawings representing half-figures from the Old and New Testament in oval, which closely relate in composition and style to "Icones Prophetarum Veteris Testamenti" (Portraits of Old Testament Prophets), published in 1613 in Antwerp by Theodore Galle. The series of drawings of Old and New Testament figures apparently was intended to be engraved but was never published, with the exception of "Jacob Maior", published by Justus Sadeler. Other drawings that belong to the same series include "Abraham and Isaac" (whereabouts unknown; A. Baroni Vannucci, "Jan Van Der Straet detto Giovanni Stradano. Flandrus pictor et inventor", Milan, 1997, no. 665, repr.), "Martha" (National Gallery, Edinburgh; Baroni Vannucci, no. 656, repr.), and "Simeon with the Christ Child" (Courtauld Institute Galleries, London; Baroni Vannucci, no. 659, repr.).