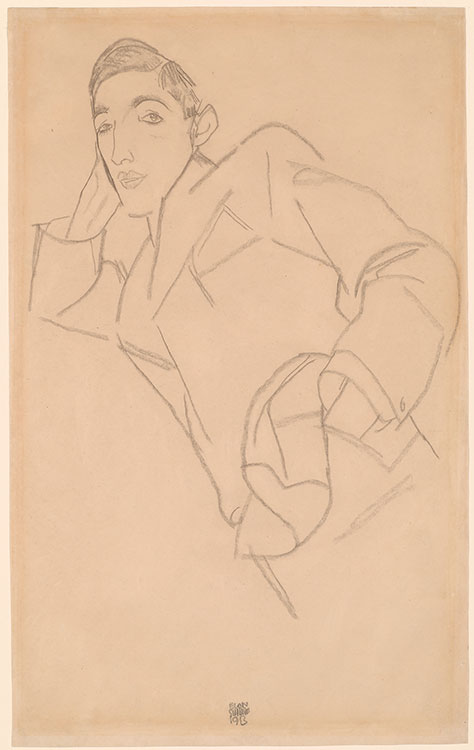 Portrait of a Young Man (Erich Lederer)
17 3/8 x 10 3/4 inches (44.1 x 27.2 cm)
Inscription:
Signed and dated at lower center in graphite pencil, "Egon Schiele 1913"; verso: Estate stamp at lower right.
Provenance:
Estate of the artist; Rudolf Leopold (b. 1925); Serge Sabarsky (1912-1996); Felix Landau, Los Angeles (by 1967); Galerie La Boetie, New York (by 1971); Helios Gallery, New York; from which acquired by Fred Ebb, New York, in 1978.
Notes:
Schiele was a prolific draftsman who at times created an average of a drawing a day. When he died at the age of twenty-eight during the 1918 influenza pandemic, he left behind about three thousand watercolors and drawings. Gustav Klimt was an important influence on Schiele, helping him to move away from the conventionality of his academic training. In Schiele's early drawings, forms are defined by simple contour lines, with no shading and little articulation of volume. The year 1910 marked a breakthrough in Schiele's development. He abandoned Klimt's highly decorative style in favor of a more direct form of expression. In 1912, when Schiele was experiencing financial difficulties, Klimt introduced him to one of his own major patrons, the industrialist August Lederer. This led to a lifelong friendship between Lederer's son, Erich, then a fifteen-year-old budding artist, and Schiele, who drew several portraits of the young man, inlcuding this one. This sheet is remarkable for its sobriety, showing the evolution of Schiele's drawing away from mannerism and toward a greater sense of volume. The oblique point of view and angular outline contribute to the impression of three-dimensionality, as opposed to the flatness characteristic of the drawings from 1910-12. In contrast to the emphatic depiction of hands in Schiele's works from that period, Lederer's hands are out of sight. Instead, his presonality comes through in the rendering of his "long, aristocratic face," as Schiele described it. His gaze and casual pose reveal his coolness and self-confidence.