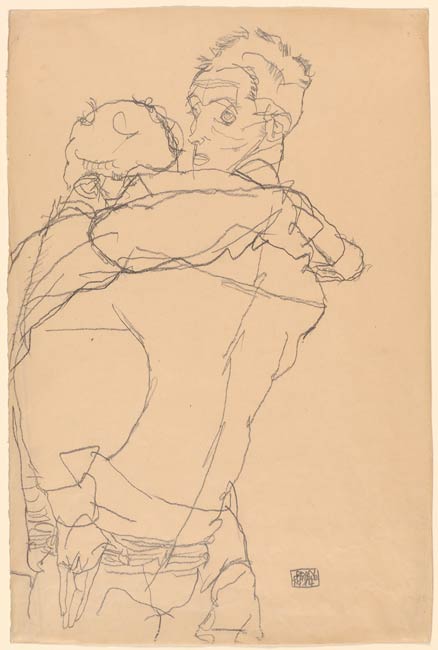 19 1/8 x 12 3/4 inches (48.5 x 32.3 cm)
Inscription:
Signed and dated at lower right, in a box, "Egon / Schiele / 1914".
Provenance:
Kornfeld & Klipstein, 12 June 1971, sale 142, lot 1158, repr.; Galerie La Boetie, Inc., New York; from which acquired by Fred Ebb, New York, in 1972.
Notes:
Schiele was a prolific draftsman who at times created an average of a drawing a day. When he died at the age of twenty-eight during the 1918 influenza pandemic, he left behind about three thousand watercolors and drawings. Gustav Klimt was an important influence on Schiele, helping him to move away from the conventionality of his academic training. In Schiele's early drawings, forms are defined by simple contour lines, with no shading and little articulation of volume. The year 1910 marked a breakthrough in Schiele's development. He abandoned Klimt's highly decorative style in favor of a more direct form of expression. In this depiction of the artist in the arms of an unidentified companion, the jagged, seemingly erratic contours suggest a psychological agitation characteristic of Schiele's self-portraits. A feeling of tension derives from the position of the artist's head--turned away from the woman embracing him--as well as from the placement of the couple to the left of the sheet, with the figure of the woman cropped. The resulting asymmetry conveys the artist's emotional unbalance and emphasizes his egocentric character while demonstrating the amazing technical agility he brought to bear to express a wide range of emotions.