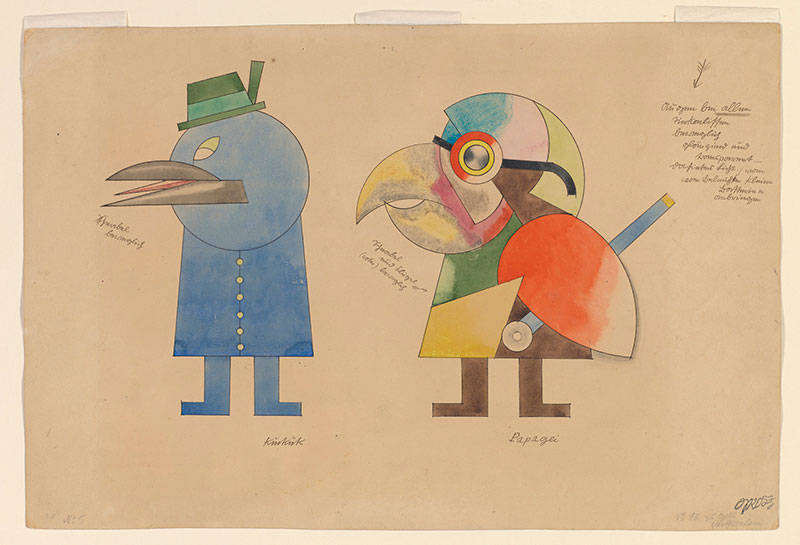 Cuckoo and Parrot: Costume Studies for "Methusalem"
Pen and ink and watercolor on paper.
13 x 19 1/2 inches (33.1 x 49.5 cm)
Inscription:
Stamped signature at lower right; inscribed with characters' names, "Kuckuk" (sic) and "Papagei", and other notes, in pen and brown ink: left, "Schnabel / beweglich"; center, "Schnabel / und Flügel / (roter) beweglich"; right, "Augen bei allen / Tierkoulissen / beweglich / glänzend und / transparent - / dahinter Licht. / vom / vom Beleuchter kleine / Batterien / anbringen. In graphite pencil at lower right, "zu Goll / Methusalem".
Provenance:
Estate of the artist; Allan Frumkin Gallery, New York; from which acquired by Fred Ebb, New York, in 1967.
Notes:
Active in communist and revolutionary organizations, Grosz published satirical newspapers and produced caricatures, collages, and photomontages intended to promote the workers' cause by portraying the collapse of capitalism. Among his numerous activities in the service of the radical left, Grosz created theatrical sets and costumes. The play Methusalem, or The Eternal Bourgeois, was a satire of capitalism written in 1921 by Franco-German playwright and poet Yvan Goll (1891-1950). Grosz conceived the costumes as giant articulated puppets to be manipulated by actors hidden behind them. The instructions on this watercolor indicate that the beaks, wings, and eyes were supposed to move and the eyes were meant to be lit by a small, battery-operated device.