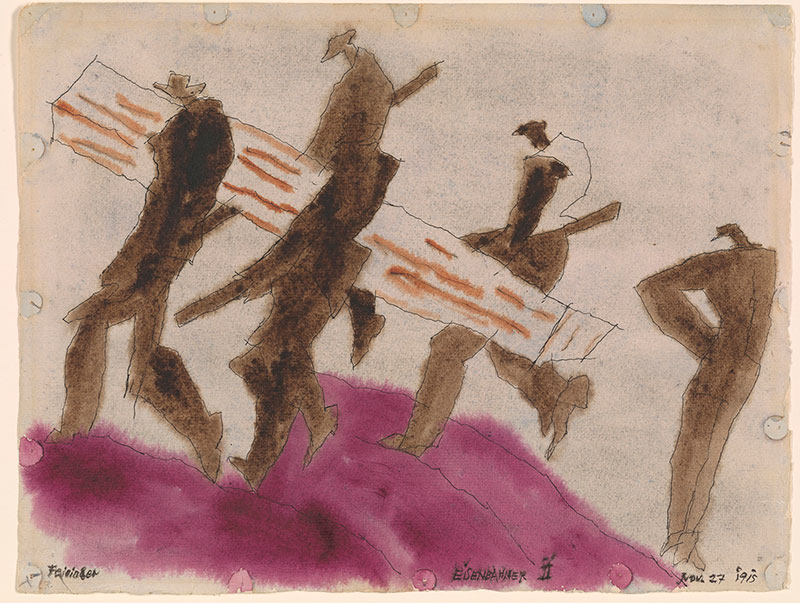 Pen and ink, black chalk, and watercolor on laid paper.
9 3/8 x 12 1/4 inches (24 x 31.2 cm)
Inscription:
Signed at lower left, in pen and ink, "Feininger"; inscribed lower center, "Eisenbahner II"; dated at lower right, "Nov 27, 1915".
Provenance:
Julia Feininger (recorded there in 1931); Serge Sabarsky Gallery, New York; from which acquired by Fred Ebb, New York, in 1975.
Notes:
Watermark: M B M
Fascinated by technology, locomotion, and speed, Feininger often drew locomotives and railroad scenes. In this watercolor, he revisited a subject he had first sketched in 1911 at the train station of Herringsdorf, Germany: a group of workers carrying a railroad tie. With great economy Feininger built the composition around the opposition between the tie, which forms a strong diagonal, and the men, who lean in the opposite direction. The restricted palette and bold contrast of values abstract the image. "Paintings have to sing," Feininger declared, "and must not stop at portraying an episode."