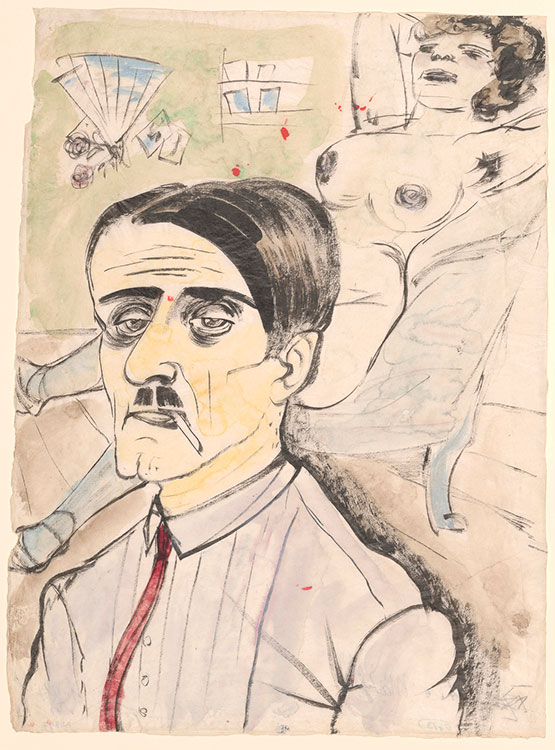 Brush and India ink and watercolor on tracing paper.
20 1/4 x 15 inches (51.5 x 38.2 cm)
Inscription:
Signed at lower right, in graphite pencil, "Dix"; verso: inscribed at lower right, in graphite pencil, "Zuhälter und Mädchen".
Provenance:
Galerie Nierendorf, Berlin; Stefan Lennert; Scott Elliott; from whom acquired by Fred Ebb, New York.
Notes:
Dix's experience as a machine-gun commander during World War I profoundly affected his artistic production throughout the 1920s. The horrors of war and the depravity and corruption of Weimar Germany became his major subjects. In the early twenties, he devoted more drawings to prostitution and the sexual underworld than to any other subject. In this drawing, he adapted the theme to political satire by giving the pimp Hitler's features. In 1923, the date of this drawing, Hitler made an abortive attempt at overthrowing the German government. Although he failed, his trial made him a widely known figure. Dix emphasized the dark side of this shady character by exaggerating his heavy lids, dark eye sockets, split chin, and yellow complexion. He produced this image as a lithograph in order to disseminate it widely.