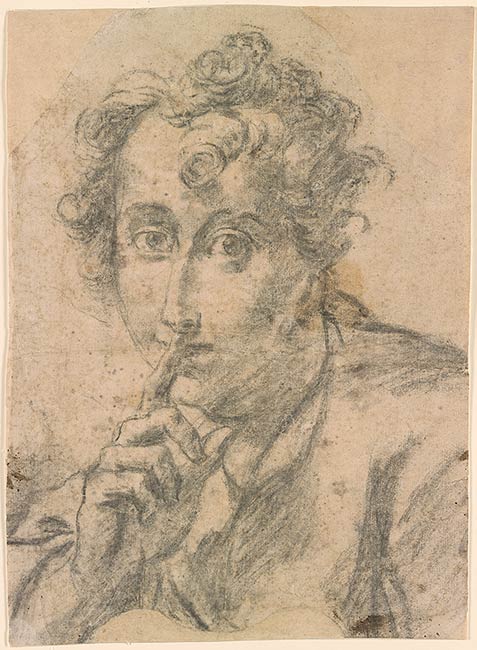 Young Man with Finger Raised to Lips
16 7/16 x 11 7/8 inches (418 x 302 mm)
Inscription:
Inscribed: Annibale Carracci.
Provenance:
H.P. Kraus (1907-1988), Vienna and New York.
Description:
The donor H. P. Kraus tentatively attributed the drawing to El Greco, who is almost entirely unknown as a draftsman. One of the rare sketches by the artist, a free study in pen and ink for a known painting of Saint John the Evangelist and an Angel, from the late 1590s, in the J. Paul Getty Museum, Los Angeles, and three drawings in the Biblioteca Nacional, Madrid, given to him, are of a very different facture.1 The old inscription Annibale Carracci suggests a Bolognese origin for the drawing, a connection with which Nicholas Turner agreed (unpublished correspondence with Morgan curators, 2007). The size and technique of the study and the unusual crop at the lower and upper edges suggest that it was a cartoon for a painting or fresco.
Footnotes:
J. Paul Getty Museum, Los Angeles, inv. 82.GA.166; Biblioteca Nacional, Madrid, inv. 105, 107 and 109.
Notes:
Watermark: none.
Attributed by H.P. Kraus to El Greco. Acquired as Italian school.
Associated names:
Greco, 1541?-1614, Formerly attributed to.
Carracci, Annibale, 1560-1609, Formerly attributed to.
Kraus, Hans Peter, 1907-1988, former owner.