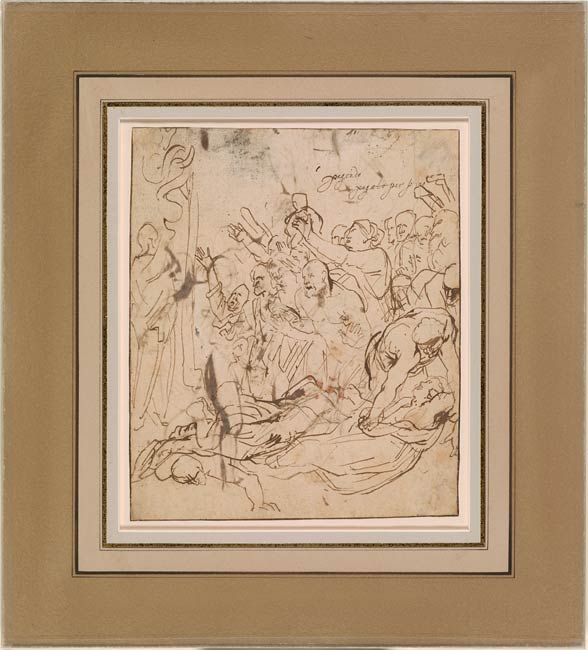 Studies for Moses and the Brazen Serpent (recto and verso)
9 9/16 x 8 inches (242 x 203 mm)
Inscription:
Inscribed by the artist at upper right, "pagendo / pagato per primo".
Watermark: Rampant lion.
Provenance:
Galerie de Bayser, Paris, 1984; private collection, France; Bob P. Haboldt & Co., New York, 1989; Eugene V. and Clare E. Thaw, New York.
Bibliography:
Tuinen, Ilona van. Power and Grace : Drawings by Rubens, Van Dyck, and Jordaens. New York : Morgan Library & Museum, 2018, page 22, fig. 10 (repr.)
The Morgan Library & Museum, New York, NY, "Drawn to Greatness: Master Drawings from the Thaw Collection", 2017. Exh. cat., no. 109, repr.
Denison, Cara D. et al. The Thaw Collection : Master Drawings and New Acquisitions. New York : Pierpont Morgan Library, 1994, no. 16.
Notes:
Early in his career, van Dyck produced many drawings to develop his compositions. This work, created when he was a teenager and working as an assistant in Rubens's studio, is one of seven known sheets related to van Dyck's painting of Moses and the Brazen Serpent in the Prado in Madrid. It was probably one of the first in the sequence, since it is heavily informed by Rubens's composition of the same theme. As the evolution of the drawings shows, van Dyck eventually arrived, step by step, at his own solution. It is unclear if and how van Dyck's inscription in Italian, which seems to relate to some form of payment, pertains to the drawing. -- Exhibition Label, from "Drawn to Greatness: Master Drawings from the Thaw Collection"
Associated names:
Thaw, Eugene Victor, former owner.
Thaw, Clare, former owner.