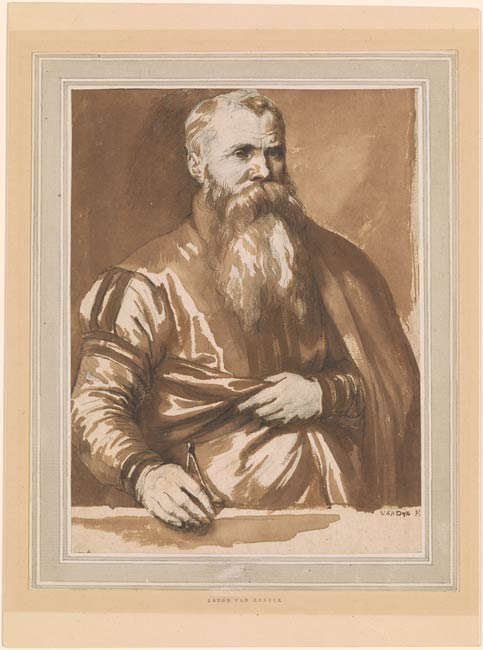 Portrait of Jacques Dubroeucq
Brush and different shades of brown ink over black chalk, incised for transfer.
8 11/16 x 6 9/16 inches (221 x 168 mm)
Exhibition label:
One of van Dyck's most ambitious projects was his Iconographie, a series of portrait prints of famous artists published between 1636 and 1641. This is his design for the portrait of the Flemish sculptor and architect Jacques Dubroeucq, which was incised for transfer and engraved, in reverse, by Paulus Pontius. With his impressive command of the black chalk and rich, fluid brown washes, van Dyck created a convincing portrait that seems drawn from life. Yet Dubroeucq died in 1584, well before van Dyck was born, so the artist must have relied on an earlier prototype.
Inscription:
Inscribed at lower right in brush and brown ink, "VANDYK F:."
Provenance:
Sale, London, Christie's, 1 December 1970, lot 54; William H. Schab Gallery, New York, 1972; private collection, Switzerland; William H. Schab Gallery, New York, 1986; Eugene V. and Clare E. Thaw, New York.
Bibliography:
Tuinen, Ilona van. Power and Grace : Drawings by Rubens, Van Dyck, and Jordaens. New York : Morgan Library & Museum, 2018, page 23, fig. 13 (repr.)
Thaw Catalogue Raisonné, 2017, no. 110, repr.
Denison, Cara D. et al. The Thaw Collection : Master Drawings and New Acquisitions. New York : Pierpont Morgan Library, 1994, no. 17.
Notes:
Watermark: none visible through lining.
This drawing is preparatory for an engraving by Paulus Pontius for van Dyck's Iconography, a collection of portraits after drawings by the artist, first published between 1636 and 1641. Jacques Dubroeucq (1500/10-1584) was a sculptor and architect from Mons (in present-day Belgium). The downward-pointing compass he holds is the attribute of a practicing architect; a raised compass refers to the theoretical aspects of architecture. This sheet is preparatory for the engraving by Paulus Pontius included in what is known as van Dyck's "Iconography," a book of portraits of individuals of note that was published between 1639 and 1641. The tonal modulation of washes is typical of this type of finished drawing intended for engraving.