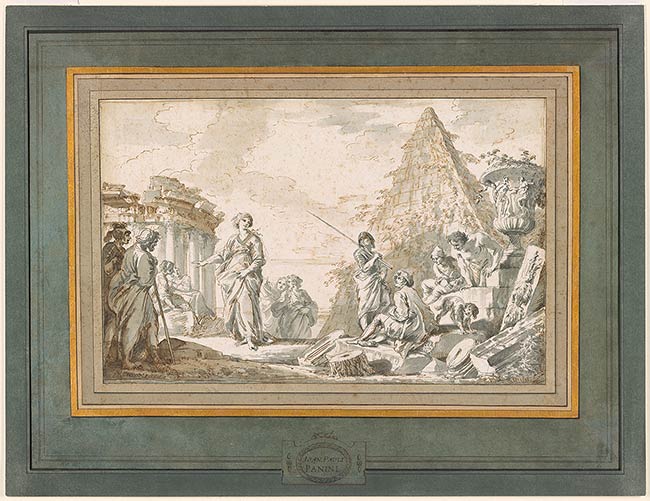 A Capriccio of Classical Ruins with Figures including a Sybil
Pen and black and brown inks, brown and black ink washes, black chalk; laid down on Mariette mount.
9 x 14 1/2 inches (235 x 364 mm)
Purchased on the Sunny Crawford von Bülow Fund 1978.
Inscription:
Signed at lower left, "J. Po Panini", inscribed at lower center, "P.r Mr Mariette", and inscribed on mount in cartouche, "Joan. Pauli / Panini".
Provenance:
Pierre Jean Mariette (1694-1774; Lugt 1852); his sale, 15 November 1775 - 31 January 1776, lot 564; acquired from Artemis Fine Arts Limited, London.
Notes:
A professor of perspective at the French Academy in Rome for thirty years, Panini was the foremost Roman painter of real and imaginary architectural views. In the present sheet he represents both classical ruins and buildings reminiscent of actual Roman sites, including the Temple of the Sybil at Tivoli, and the Tomb of Caius Cestius. The overgrown marble vessel at upper right is an amlagam of the celebrated Medici and Borghese Vases. Panini utilized this composition in three paintings, of which the closest to the present sheet is in the Musée de Beaux-Arts, Valence. Our new drawing is one of thirty-five sheets attributed to Panini and described in the catalogue of the 1775 sale of the collection of Pierre Jean Mariette, the great eighteenth-century amateur and collector (nos. 548-574). It joins two other drawings by Panini from the Mariette collection acquired for the Morgan on the Sunny Crawford von Bülow Fund 1978 (1982.18:1-2) as well as four other sheets by Panini, of which one is a promised gift of the Thaw collection.
Associated names:
Mariette, Pierre Jean, 1694-1774, former owner.