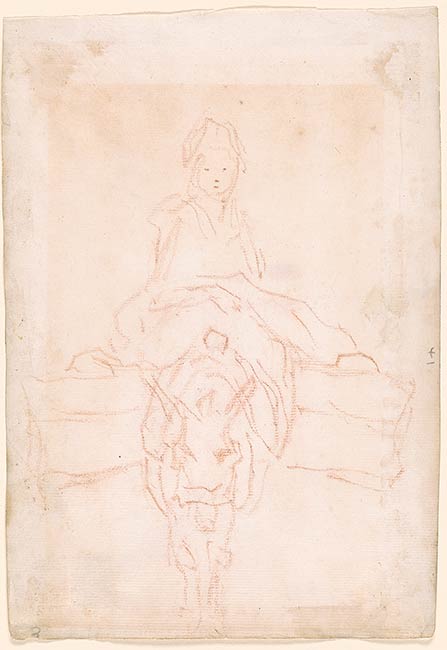 Study of a Girl on a Donkey
Inscription:
Watermark: Crown floating above a fleur-de-lis, over letters "GA".
Inscribed in graphite along right edge "41", which corresponds to the page numbering in the Harvard volume.
Provenance:
The artist's estate; presumably by descent through his heirs, his grandson Theophile Fragonard (1806-1876), Paris; his daughter, Emilie Francoise Huot; her son, Georges Huot; from whom purchased by George S. Hellman (878-1958), New York; sale, Kende Galleries, New York, 10 April 1952, lot 75; acquired by Ira Spanierman (d. 2019), Spanierman Gallery, New York, Martin Reymert (d. 1992), Shepherd Gallery, New York, and Gerald Norman (d. 1992), London, who dismembered and sold sheets from the volume in the 1960s; Paulette Goddard (1910-1990), New York; anonymous sale, Sotheby's, 8 January 1991, lot 10; Harwood Fine Arts, New York; John M. Thayer (1945-2004), Wilmington, DE.
Notes:
This loose, angular drawing is a sheet from a dismembered sketchbook that dates from Fragonard's first Italian sojourn, ca. 1759-61. The so-called "sketchbook" emerged in 1932 when it was published by George S. Hellman, who had obtained it from Fragonard's heirs. It was subsequently dismembered in the 1960s by a trio of dealers and then partially reassembled when thirty bound sheets entered the collection of the Fogg Art Museum/Harvard University Art Museums collection in 1968 (inv. 1968.42:1-30). Like the present sheet, the Harvard sketches are swift and summary. Here the artist has recorded a familiar rustic theme: a young woman, her facial features denoted by abbreviated dots, rides a laden donkey.
Associated names:
Goddard, Paulette, former owner.
Thayer, John M. (John MacLane), 1944-2004, former owner.