Panoramic Landscape with Scattered Farm Buildings and a Windmill
Pen and brown ink and wash, and watercolor, over black chalk.
4 11/16x 9 7/16 inches (117 x 240 mm)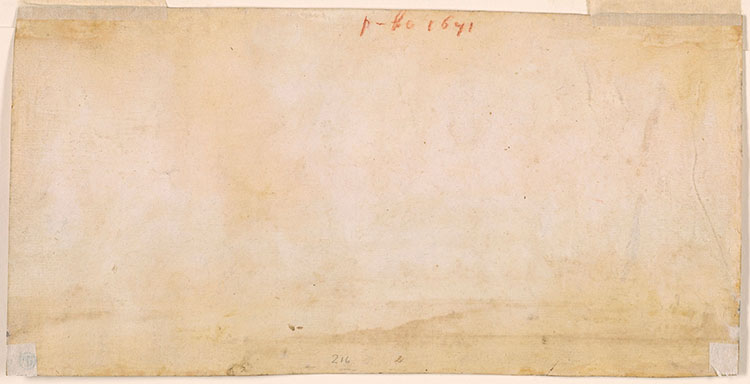 Inscription:
Signed and dated on verso in red chalk at upper right, "p--ko 1671"; numbered in graphite at lower left, "216".
Watermark: Fleur-de-lis in shield, surmounted by crown, over letters "WR", (Strasbourg lily) Fragment, (similar to Briquet 7210; Neuweilnau 1585),
Provenance:
Thomas Dimsdale, London (Lugt 2426); possibly Samuel Woodburn, London (no mark; see Lugt 2584); possibly his sale, London, Christie's, 17 June 1854, lot 418 (to Marzen for 3 guineas); J.E. Fordham, Melbourn Bury, near Royston, Cambridgeshire; his sale, London, Christie's, 9 April 1910, lot 89 (to Sabin for 30 guineas); sale, Amsterdam, Frederik Muller and Co., 11-14 June 1912, lot 136, repr.; princes of Liechtenstein, Vaduz; Galerie Feilchenfeldt, Zurich, 1949; Prof. Leopold Ruzicka, Zurich; Dr. and Mrs. Rudolf J. Heinemann, New York; their sale, London, Christie's, 1 July 1997, lot 211, repr. in color; Eugene V. and Clare E. Thaw, New York.
Bibliography:
The Morgan Library & Museum, New York, NY, "Drawn to Greatness: Master Drawings from the Thaw Collection", 2017. Exh. cat., no. 226, repr.
The Thaw Collection : Master Drawings and Oil Sketches : Acquisitions since 1994. New York : Pierpont Morgan Library, 2002, no. 7, repr.
Jane Shoaf Turner, with contributions by Felice Stampfle, Dutch Drawings in the Pierpont Morgan Library: Seventeenth to Nineteenth Centuries, New York, 2006, cat. no. 119.
From Leonardo to Pollock: Master drawings from the Morgan Library. New York: Morgan Library, 2006, cat. no. 46, p. 100-101.
Notes:
Koninck is noted for his highly distinctive landscape style, here exemplified by the broad expanse of flat landscape, deep distance, and low horizon that emphasizes a large, open sky. His watercolor additions skillfully enhance the sense of recession into space, especially the passages that increasingly darken in the foreground to the point that they obscure the underlying lines. While his ambitious landscapes often give the appearance of an actual Dutch countryside, Koninck probably drew most of them, including this one, from his imagination. -- Exhibition Label, from "Drawn to Greatness: Master Drawings from the Thaw Collection"
Associated names:
Dimsdale, Thomas, 1758-1823, former owner.
Woodburn, Samuel, 1785 or 1786-1853 former owner.
Fordham, J. E., former owner.
Liechtenstein, Princes of, former owner.
Ruzicka, Leopold, former owner.
Heinemann, Rudolf J., former owner.
Heinemann, Rudolf J., Mrs., former owner.
Thaw, Eugene Victor, former owner.
Thaw, Clare, former owner.