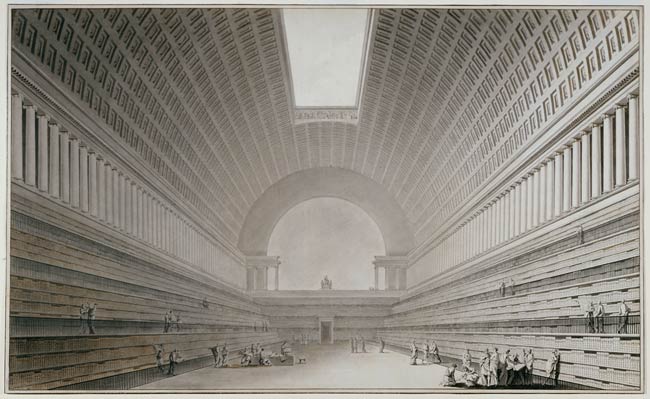 Pen and black and brown ink and washes over graphite with black chalk.
15 7/8 x 25 5/8 inches (420 x 653 mm)
Provenance:
Possibly bequeathed to P.N. Bernard; sale, Paris, Hôtel Drouot, 20 December 1982; private collection, Paris, sale; Paris, Drout-Richelieu, 15 December 1993, lot 31, repr.; Bob P. Haboldt & Co., New York and Paris; Eugene V. and Clare E. Thaw, New York.
Bibliography:
The Morgan Library & Museum, New York, NY, "Drawn to Greatness: Master Drawings from the Thaw Collection", 2017. Exh. cat., no. 22, repr.
The Thaw Collection : Master Drawings and Oil Sketches : Acquisitions since 1994. New York : Pierpont Morgan Library, 2002, no. 14, repr.
Notes:
Watermark: D & C Blauw / IV (cf. Heawood 3268).
At his death, the architect Boullée left a group of nearly 100 drawings intended to illustrate his treatise "Architecture, essai sur l'art" to the Bibliothèque nationale de France (manuscript, ca. 1788). The drawings were produced during the last decade of his life, between 1778 and 1788 and are mostly large scale designs devoted to ideas for public buildings. The present sheet is a smaller scale rendering of the Design for the Enlargement of the Royal Library on a sheet measuring 630 x 980 mm in the Bibliothèque nationale ["Vue de la nouvelle salle projetée pour l'agrandissement de la bibliothèque du roi"; Bibliothèque nationale de France, département Estampes et photographie, RESERVE FT 4-HA-57 (15)]. While Boullée's drawings have been described as futuristic and visionary, his remarks about expanding the royal library in a brief 1785 treatise reveal a pragmatic approach: "My design would transform a courtyard, 300 feet long and 90 feet wide, into an immense basilica lighted from above...For it seems that nothing could be more grand, more noble, more magnificent in appearance than a vast amphitheater of books. Imagine, in this vast amphitheater, disposed in tiers, attendants spread about so that they could pass the books, from hand to hand. Service would be quick as the request, not to mention that this would avoid the dangers that often result from the use of ladders" ("Mémoire sur les moyens de procurer à la Bibliothèque du roi les avantages que ce monument exige", Bibliothèque nationale de France, département Estampes et photographie, RESERVE FOL-HA-43).
Associated names:
Bernard, P. N., former owner.
Thaw, Eugene Victor, former owner.
Thaw, Clare, former owner.