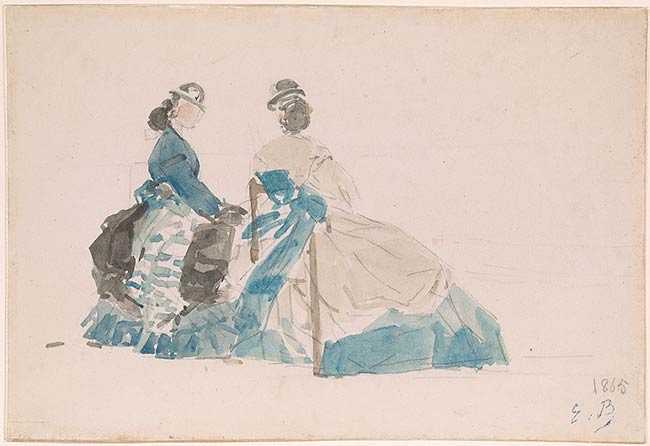 Watercolor over graphite.
5 13/16 x 8 9/16 inches (147 x 217 mm) in decorative frame 13 1/8 x 16 3/8 x 2 inches
Inscription:
Watermark: none.
Dated in graphite at lower right, "1865"; studio stamp at lower right, "E.B." (Lugt 828).
Provenance:
Estate of the artist; private collection, France; Emmanuel Moatti, New York and Paris; Eugene V. (1927-2018) and Clare E. (1924-2017) Thaw, New York.
Bibliography:
The Morgan Library & Museum, New York, NY, "Drawn to Greatness: Master Drawings from the Thaw Collection", 2017. Exh. cat., no. 21, repr.
The Thaw Collection : Master Drawings and Oil Sketches : Acquisitions since 1994. New York : Pierpont Morgan Library, 2002, no. 42.
Notes:
The son of a sailor, Boudin began his professional life in Le Havre as a stationer's clerk before opening his own paper and art supply shop with a partner. Occasionally exhibiting artwork in the shop window, Boudin came into contact with a number of artists, including Eugène Isabey, Thomas Couture, Constant Troyon, and Jean-François Millet. In 1846, after the partnership dissolved, Boudin began making a modest living selling the drawings he had made of picturesque sites at Le Havre. After traveling to Paris and Normandy, the artist returned to his native Honfleur in 1854 and began painting the marine scenes that would attract the attention of Gustave Courbet, and consequently the critic Boudelaire, who became one of Boudin's most avid admirers.
First exhibiting at the Salon of 1859, Boudin was urged to move to Paris by his friends, including the young Claude Monet. He returned to the seaside the following year, when he regularly began to spend his summers painting and drawing the neighborhood resort towns of Le Havre, Trouville, and Deauville. His depictions of fashionable men and women at the beach were well received and helped to establish his reputation as a painter. These works responded to Baudelaire's call for artists to represent the "beauty of the contemporary" and capture the manners, fashion, and activities of the bourgeoisie at popular beach resorts. Boudin continued to paint scenes of elegant vacationers throughout his career; the latest such work is dated 1896, two years before the artist's death at age seventy-four.
This drawing is related to a number of beach scenes executed by Boudin during the summer of 1865, which he spent at the seaside along with James McNeill Whistler and Gustave Courbet. Boudin produced these studies of women at the beach as aides-mémoire for the groups of fashionably dressed figures in his paintings. Comparable sheets with lively graphite drawings touched with watercolors include a large sheet in the St. Louis Art Museum (5:1934) and two in the National Gallery of Art, Washington: Four Women at Trouville, 1865 (1970.17.137) and Three Women at Trouville, ca. 1865 (1970.17.142). Boudin's women at leisure are seen at a distance, a pattern of hats and dresses, their faces indistinct. The artist remains the onlooker, and we join him in the satisfying experience of glimpsing the colorful spectacle on the sand.
Associated names:
Thaw, Eugene Victor, former owner.
Thaw, Clare, former owner.