Rembrandt Harmenszoon van Rijn
Reed pen and brown ink with white opaque watercolor.
7 3/8 x 9 1/4 inches (188 x 235 mm)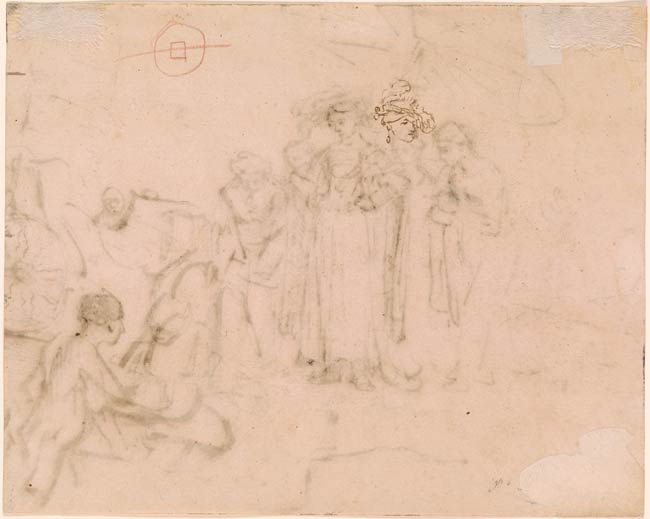 Inscription:
Numbered in brown ink at lower right corner, "15".
Watermark: Strasbourg lily variant, crown over square shield with fleur-de-lis inside; see Heawood 1719.
Provenance:
H. Duval; sale, F. Muller, Amsterdam, 22-23 June 1910, no. 302; Marignane; Dr. James Henry Lockhart Jr., Rochester, New York; R. M. Light and Company Inc., Boston; Eugene V. and Clare E. Thaw, New York.
Bibliography:
The Morgan Library & Museum, New York, NY, "Drawn to Greatness: Master Drawings from the Thaw Collection", 2017. Exh. cat., no. 328, repr.
Stampfle, Felice, and Cara D. Denison. Drawings from the Collection of Mr. and Mrs. Eugene V. Thaw. New York : Pierpont Morgan Library, 1975, no. 29.
Notes:
This is one of numerous compositional drawings by Rembrandt exploring biblical and historical subjects. Many of these functioned as exercises in creating convincing narratives and emotionally effective groups of figures and not exclusively as preparatory drawings for paintings. Here, the dramatic tension is divided among three focal points: the central plane dominated by the richly clad Pharaoh's daughter standing under a large parasol; the two attendants at lower right fishing the infant Moses out of the Nile; and Moses's sister in the right background, who observes the rescue anxiously. -- Exhibition Label, from "Drawn to Greatness: Master Drawings from the Thaw Collection"
Associated names:
Duval, H., former owner.
Muller, F., former owner.
Marignane, former owner.
Lockhart, James Henry, former owner.
Thaw, Eugene Victor, former owner.
Thaw, Clare, former owner.