Giovanni Battista Piranesi
View of the Esquiline Obelisk and the Apse of S. Maria Maggiore
Pen and brown ink and wash, over red chalk and charcoal; verso: detail of bracket in red chalk, pen and brown ink insc.
4 1/2 x 7 1/8 inches (114 x 181 mm)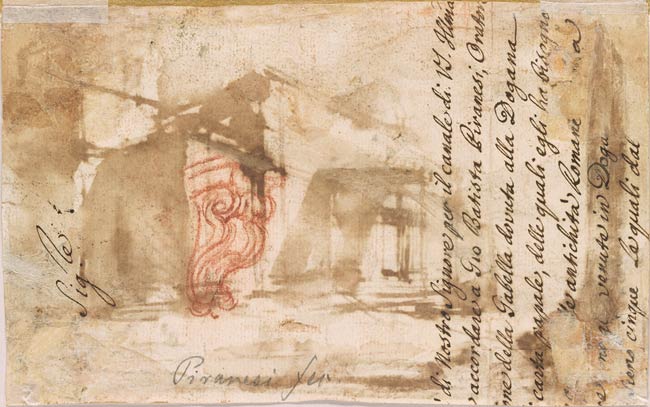 Inscription:
Inscribed on verso in pen and brown ink, at upper left, "Sig. Re: ; below is a fragment of a document or letter in notarial hand, cut off at left and right margins. It reads: ... di Nostro Signori per il canale di VS.llma ... / ... 'accordare a Gio Batista Piranesi, Orator ... / ... one della Gabella dovuta alla Dogana ... / ... carta papale, delle quali egli ha bisogno ... / ... op [obliterated] lle antichità Romane [obliterated] a ... / ... e no gi [obliterated] venute in Doga [obliterated] ... / ... sieno cinque Le quali dal ... "
Provenance:
Walter Schatzki, New York; Austin A. Mitchell, New York; Mathias Komor, New York; Eugene V. and Clare E. Thaw, New York.
Bibliography:
Thaw Catalogue Raisonné, 2017, no. 291, repr.
Stampfle, Felice, and Cara D. Denison. Drawings from the Collection of Mr. and Mrs. Eugene V. Thaw. New York : Pierpont Morgan Library, 1975, no. 55.
Notes:
This view depicts the rear facade of Santa Maria Maggiore and the obelisk erected behind the church by Pope Sixtus V. It is similar to other drawings for Piranesi's etchings in the "Varie Vedute" series published in various editions in the 1740s, but there is no corresponding print in that series, and the only view of Santa Maria Maggiore is a bland depiction of the main facade by an unknown artist. Like other surviving drawings for the "Varie Vedute," it seems more concerned with framing the scene and establishing the chiaroscuro than with the details of the building (of which virtually none are indicated). When Piranesi made an etching of the scene for his "Vedute di Roma" scene in 1756/57, he chose a slightly different viewpoint with a less severe foreshortening of the church (one perhaps less dramatic but more conducive to describing the church's details in the larger scale of the Vedute) but he retained the dramatic lighting scheme of the sketch, with the shadows that fall across the building's masses in the morning sun
The fragmentary letter on the verso refers to the purchase of large sheets of paper ("carta papale") for Piranesi's Antichita Romane, published in 1756.
Associated names:
Schatzki, Walter, 1899-1983, former owner.
Mitchell, Austin A., former owner.
Komor, Mathias, 1909-1984, former owner.
Thaw, Eugene Victor, former owner.
Thaw, Clare, former owner.