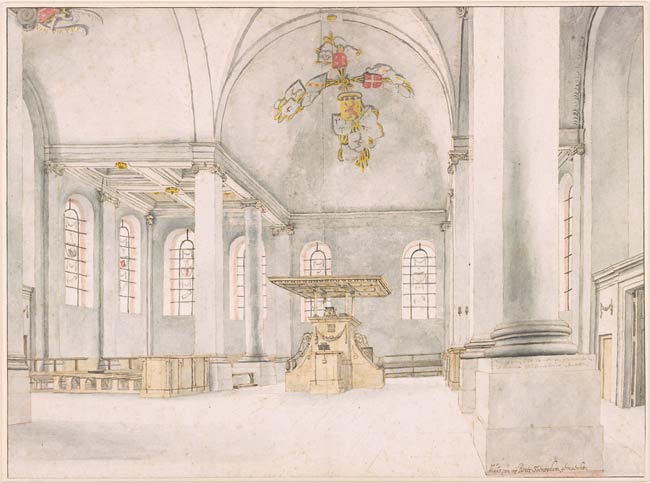 Interior of the Nieuwe Kerk of Haarlem
Pen and brown ink and watercolor with red chalk over black chalk.
14 13/16 x 20 inches (376 x 507 mm)
Inscription:
Inscribed by the artist on the plinth of the column in the right foreground, "Den 14 Junij 1650 dit mette pen geteeckent in / de Nieuwe St. Anna kerk in haerlem", and signed at the bottom of the pedestal of the same column, "Aldus van my Pieter Saenredam gemaecht"; in the upper right left corner, the motto "VIM VIRTVS".
Provenance:
Six Collection, Amsterdam; Six sale, Fr. Muller's, Amsterdam, 16 -18 October 1928, no. 449; Jonckrouwe H.M.A.F. Six, 's Graveland; Noortman, London; Eugene V. and Clare E. Thaw, New York.
Bibliography:
The Morgan Library & Museum, New York, NY, "Drawn to Greatness: Master Drawings from the Thaw Collection", 2017. Exh. cat., no. 349, repr.
Denison, Cara D. et al. The Thaw Collection : Master Drawings and New Acquisitions. New York : Pierpont Morgan Library, 1994, no. 15.
Jane Shoaf Turner, with contributions by Felice Stampfle, Dutch Drawings in the Pierpont Morgan Library: Seventeenth to Nineteenth Centuries, New York, 2006, cat. no. 265.
100 Master drawings from the Morgan Library & Museum. München : Hirmer, 2008, no. 51, repr. [Peter Dreyer and Jane Shoaf Turner]
Notes:
Watermark: none visible through lining.
Saenredam specialized in depicting church interiors, and his remarkable abilities in conveying space, light, and atmosphere made him the foremost practitioner of the genre in the Netherlands. This drawing is exceptional in showing the most modern church he ever rendered, the appropriately named Nieuwe Kerk, or "New Church," in Haarlem. It was built in the 1640s by Saenredam's friend Jacob van Campen, who also built the famous Town Hall in Amsterdam. The church departed from medieval-style architecture by employing a central plan in which the nave and transepts are of equal length, similar to a Greek cross. Saenredam signed and dated this work 14 June 1650, the exact date that he drew it on the spot. -- Exhibition Label, from "Drawn to Greatness: Master Drawings from the Thaw Collection"
Associated names:
Thaw, Eugene Victor, former owner.
Thaw, Clare, former owner.