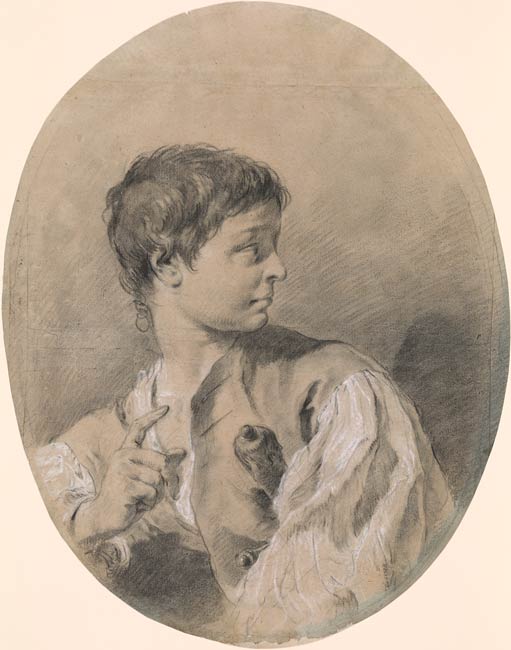 Giovanni Battista Piazzetta
Bust of a Boy Looking over His Shoulder
Black and white chalk on four joined sheets of blue paper, now light brown.
23 1/8 x 18 1/8 inches (587 x 461 mm)
Provenance:
Private collection, Switzerland; William H. Schab Gallery, New York; Eugene V. and Clare E. Thaw, New York.
Bibliography:
The Morgan Library & Museum, New York, NY, "Drawn to Greatness: Master Drawings from the Thaw Collection", 2017. Exh. cat., no. 285, repr.
Denison, Cara D. et al. The Thaw Collection : Master Drawings and New Acquisitions. New York : Pierpont Morgan Library, 1994, no. 34.
Notes:
Watermark: none.
The Bust of a Boy is one of Piazzetta's famous teste di carattere, drawings made as independent works of art, of a size and level of finish not to be kept in a portfolio but rather to be hung on a wall and enjoyed. They are the earliest type of drawings we know that were regularly framed and glazed and hung like paintings, and some were even prepared that way before being shipped to buyers. The unfortunate result of this practice of display is that the Venetian blue paper is often faded to tan. Nonetheless, these works retain Piazzetta's elegant gracefulness and human sympathy, as seen here in the ease of the raised forefinger that punctuates the twist of the boy's head. -- Exhibition Label, from "Drawn to Greatness: Master Drawings from the Thaw Collection"
Associated names:
Schab.
Thaw, Eugene Victor, former owner.
Thaw, Clare, former owner.