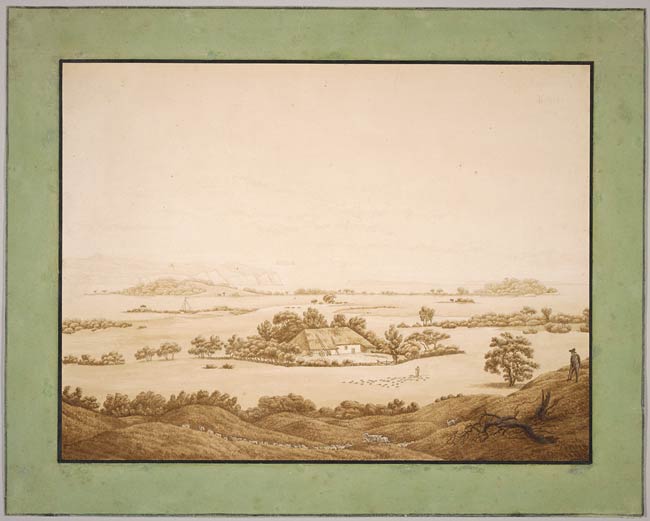 Rügen Landscape with Vilm Island
Pen and black ink, brown wash, and white opaque watercolor over graphite.
9 5/8 x 12 13/16 inches (245 x 325 mm); in decorative frame: 16 3/4 x 19 5/8 x 1 1/4 inches
Inscription:
On the verso, in graphite, indications for mounting the drawing, "Ein Passep. (Passepartout) A mit Rückpappe"; two more lines now illegible because partly erased and, at lower left, "C.D. Friedrich".
Provenance:
Private collection or art market, Weimar (prior to 1945); private collection, Berlin; C G. Boerner, Düsseldorf; Seiden and de Cuevas, New York; Eugene V. and Clare E. Thaw, New York.
Bibliography:
The Morgan Library & Museum, New York, NY, "Drawn to Greatness: Master Drawings from the Thaw Collection", 2017. Exh. cat., no. 136, repr.
Denison, Cara D. et al. The Thaw Collection : Master Drawings and New Acquisitions. New York : Pierpont Morgan Library, 1994, no. 53.
Notes:
The bleak, isolated Baltic island of Rügen became a place of frequent pilgrimage for Friedrich and other Romantic artists. This subtle wash drawing of rolling hills and cliffs receding toward the sea demonstrates how the island landscape led him to abandon traditional ways of composing landscapes in favor of scenes evoking infinite space. Although the elements of the scene--woods, a cottage, a blasted tree, and a shepherd tending his flock--are depicted in detail, they are dwarfed by the open sky. The drawing relates to a lost painting, Landscape with a Rainbow (1810), which was inspired by Goethe's poem Schäfers Klagelied (The Shepherd's Lament). -- Exhibition Label, from "Drawn to Greatness: Master Drawings from the Thaw Collection"
Associated names:
Thaw, Eugene Victor, former owner.
Thaw, Clare, former owner.