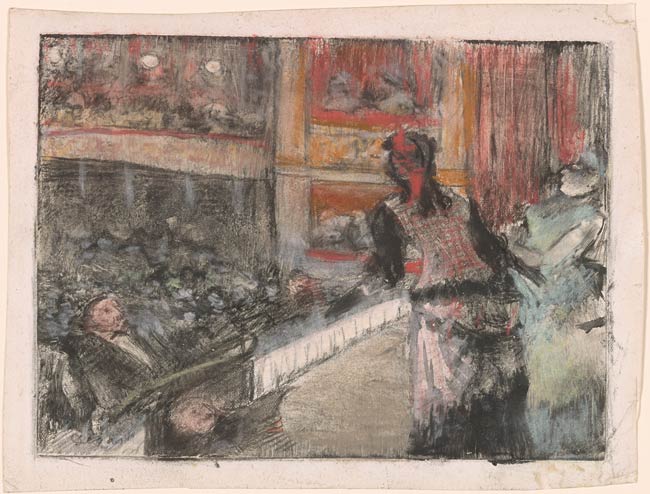 Pastel over monotype in black ink.
plate: 4 7/16 x 7 1/16 inches (138 x 180 mm); on sheet: 5 3/8 x 7 1/16 inches (136 x 179 mm), irregularly trimmed at lower right
Exhibition label:
Degas often experimented by mixing drawing media and printmaking techniques. In this case, he first produced a monotype of two singers on stage seen from behind with a view to the audience—a perspective that exploits the intimacy and the proximity to performers that Degas (and other wealthy patrons) enjoyed through privileged behind-the-scenes access. Degas then enlivened the general, slightly abstracted forms of the print with richly colored pastels. The two popular singers depicted here, Emélie Bécat and Theresa (Emma Valadon), appear in other works by Degas.
Inscription:
Signed at left, in black chalk, "Degas".
Provenance:
John Lewis Brown, Paris; sale, Paris, Hotel Drouot, 22 May 1919, lot 41, repr.; purchased by Durand-Ruel, Paris and New York; M. Knoedler & Co., Inc., New York; purchased by Robert von Hirsch in 1919, no. 606 in his collection, according to old label on back of frame; sale, London, sotheby's, 26-27 June 1978, lot 825, repr.; private collection, United States; Eugene V. and Clare E. Thaw, New York.
Bibliography:
Thaw Catalogue Raisonné, 2017, no. 82, repr.
Denison, Cara D. et al. The Thaw Collection : Master Drawings and New Acquisitions. New York : Pierpont Morgan Library, 1994, no. 79.