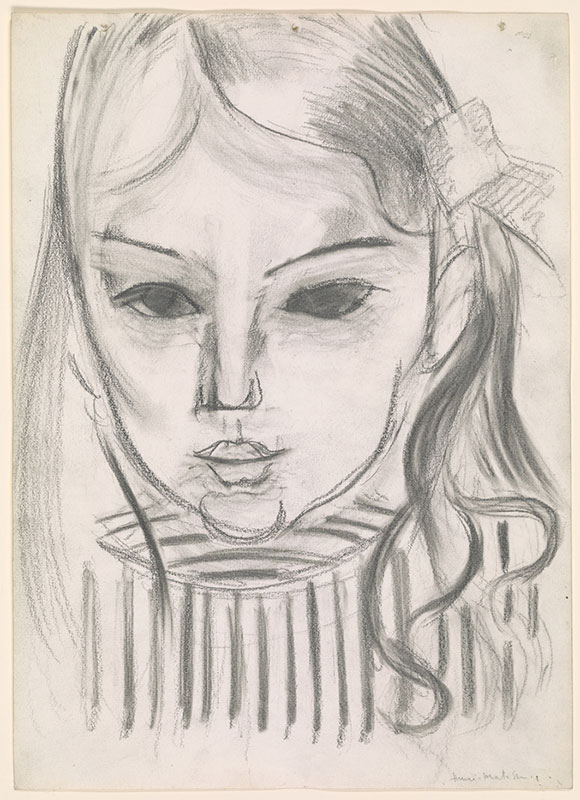 13 3/4 x 10 inches (350 x 254 mm)
Inscription:
Signed at lower right, in graphite, "Henri Matisse".
Provenance:
Jean Matisse, Paris; Harold Diamond & Co., New York; Eugene V. and Clare E. Thaw, New York.
Notes:
Watermark: none.
Between 1912 and 1916, Matisse made a large number of portraits, mostly of friends and family. It was also for him a period of formal experimentation, partly influenced by Cubism, which led to a greater emphasis on geometric elements and schematization. Fearful, however, that the intellectualism of Cubism would overwhelm the sensuous qualities that were important to him, Matisse always balanced the two approaches. Here the severity of the bold cropping and forceful rendering of the little girl's striped shirt is softened by her fleshy lips and the flowing curls of her long hair. The sitter is seven-year- old Gertrude-Micheline Agelasto (1907 - 1988), whom Matisse was tutoring in art at the time. This drawing was included in the book "Portraits par Henri Matisse" (pl. 30), edited by Matisse and published by André Sauret in 1954. Although the drawing bears no date and title, it was dated 1915 and titled "Cocoly Agelasto" by the artist himself in this book.