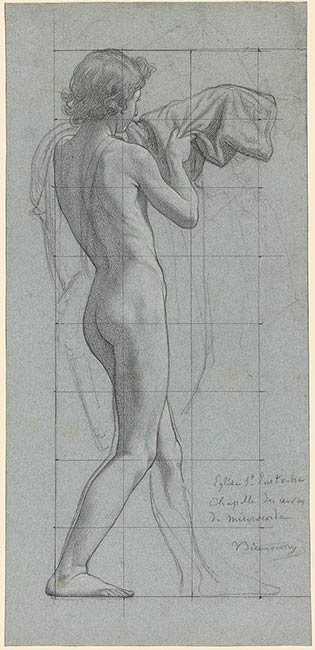 Victor François Eloi Biennourry
Standing Youth Turned to the Right, Pulling a Piece of Drapery over His Left Arm: Study for a figure in "Les oeuvres de miséricorde," Church of Saint-Eustache, Paris
Black chalk, with white, on blue paper, squared for transfer.
16 1/8 x 7 5/8 8 inches (410 x 193 mm)
Purchased on the Lois and Walter C. Baker Fund.
Inscription:
Signed and inscribed at lower right, "Eglise St. Eustache/Chappelle des oeuvres/de misericorde/VBiennourry".
Watermark: Crowned shield with cursive monogram "SM" inside.
Provenance:
Shepherd Gallery, New York, 1976; David M. Daniels, New York; his sale, Sotheby's, New York, 2003; W. M. Brady & Co., Inc., New York.
Notes:
In 1842, after three years at the Ecole des Beaux-Art under Martin Drolling, the history and portrait painter Biennourry won the Prix de Rome. He was very much in fashion during the Second Empire and decorated the Salon rouge, Salon bleu, and Salon vert in the Tuileries Palace as well as the apartments of the Empress Eugénie and the library of Napoleon III. He also painted many portraits and received commissions for several churches in Paris including Saint-Roch, Saint-Pierre and Saint-Paul de Saint-Séverin, and Saint-Eustache. The present drawing is preparatory for Les Oeuvres de Misericorde, Les Vertus, in Saint-Eustache, painted in 1854. In 1864 Biennourry executed a ceiling for Saint-Etienne-du-Monde. Later he decorated the Galleries des Antiques in the Louvre.
Associated names:
Daniels, David M., former owner.