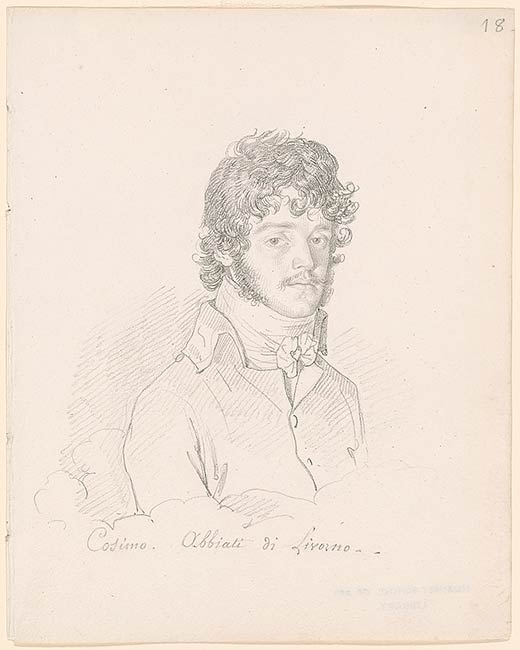 Jean-Baptiste Joseph Wicar
Portrait of Cosimo Abbiati di Livorno
9 3/4 x 7 13/16 inches (248 x 200 mm)
Gift of Roberta J. M. Olson and Alexander B.V. Johnson in honor of Charles Ryskamp.
Inscription:
Numbered at upper right, "18"; inscribed below with the name of the sitter, "Cosimo Abbiati di Livorno".
Provenance:
From a sketchbook of portraits by the artist; Hornsey School of Art Library, Hornsey (?); Roberta J. M. Olson and Alexander B. V. Johnson, New York.
Notes:
A popular painter of portraits and history paintings in the style of David, Wicar is perhaps best known as a collector. In 1797 he was appointed to select works of art to be removed from Italy to France. Beginning in 1798 he formed three successive collections of high-quality Italian drawings including a number of sheets by Raphael. Two of these collections were sold to English collectors and eventually went to the British Museum and the Ashmolean Museum. His last collection, comprising approximately thirteen hundred drawings, was bequeathed to his native Lille, where it formed the core of the Musée des Beaux-Arts.
Associated names:
Olson, Roberta J. M., former owner.
Johnson, Alexander B. V., former owner.