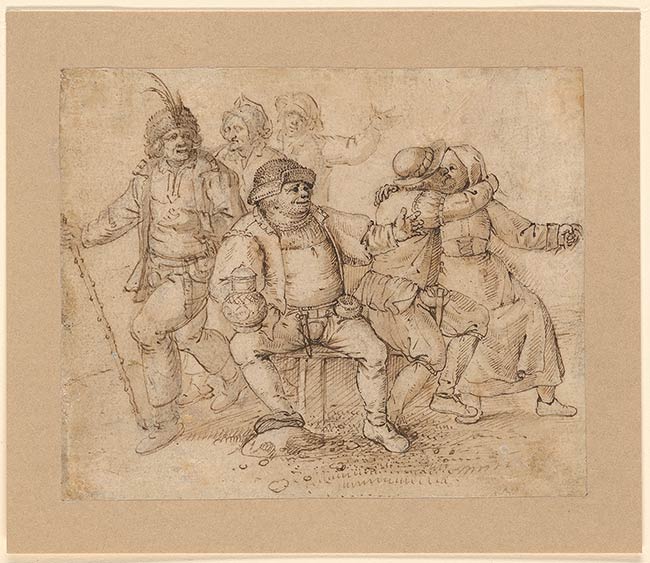 A Group of Peasants Merrymaking
Pen and brown ink and wash, over black chalk, on paper.
4 1/8 x 5 1/16 inches (105 x 128 mm)
Purchased on the Walter C. Baker Fund.
Provenance:
J. MacGowan (Lugt 1496; his mark on verso); Kate de Rothschild, London.
Notes:
Jacob Savery's "Peasants Merrymaking" continues the tradition of the representation of peasant life commonly associated with Pieter Bruegel the Elder (1525/30-1569). Like Bruegel, Savery was both a painter and draftsman who often depicted country folk enjoying themselves at important local events such as the village fair or kermis. In this pen-and-ink study, the artist created a group of figures of the type who typically inhabit these lively, crowded scenes. The poses, clothing, and facial expressions of figures in the present drawing are typical of those Savery adapted for inclusion in his larger drawn ("Village Fair," signed and dated 1598, Victoria and Albert Museum, London) and painted ("Peasant Festival," ca. 1598, Mauritshuis, The Hague) compositions.
Like his younger brother, Roelandt (1576-1639), Jacob Savery created numerous drawings of low-life subjects, but while many of Roelandt's survive, few by Jacob are extant. The Library owns only one other drawing by the artist, "Landscape with a Castle," acquired in 1985.
Associated names:
MacGowan, John, -1803, former owner.