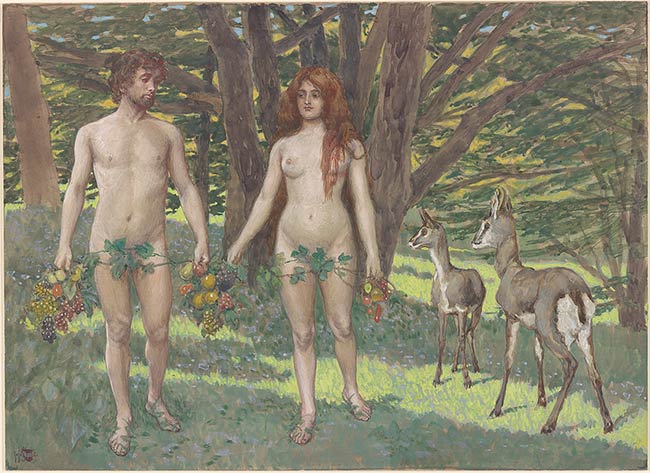 Adam and Eve in the Garden of Eden
11 x 8 inches (279 x 203 mm)
Morgan Family Collection.
Inscription:
Signed in red gouache, at lower left, "JJ Tissot".
Provenance:
Removed from an extra-illustrated edition of the 1904 publication (PML 195000-03) probably purchased by Pierpont Morgan, before 1913.
Notes:
At the mid-point of his career, the successful Tissot decided to produce an extensive series of watercolors illustrating the New Testament. He left Paris for North Africa to research the biblical lands, and by the mid-1890s, he produced 365 gouache drawings, 270 of which were exhibited in Paris in 1895 and in London the following year. Lemercier of Paris and Sampson Law of London published the illustrations in facsimile editions in 1897-98.
Following this triumph, Tissot retired to his family estate at Buillon in eastern France, near Besançon, where he embarked on the challenge of illustrating the Old Testament. This project occupied him until his death and was completed by his assistants. Ultimately, they produced 400 images. The Morgan group of five drawings are from this final campaign intended to give form to episodes from the Old Testament. They were removed from a special edition of the book, "La Sainte Bible (Ancien Testament) / quatre-cents compositions par J. James Tissot" (Paris, M. de Brunoff & cie., 1904), which was illustrated with hand-printed first proofs, that was likely acquired by Pierpont Morgan (PML 195000-03). The bulk of the pictures, 369 of them, were acquired by another banker, Jacob Henry Schiff, and are now in New York's Jewish Museum.
In this scene, Adam and Eve walk through the Garden of Eden, unashamed of their nakedness, though Tissot has chosen to conceal their genitals with fig leaves. They carry a bounty of fruit, suggesting the abundance of Eden.