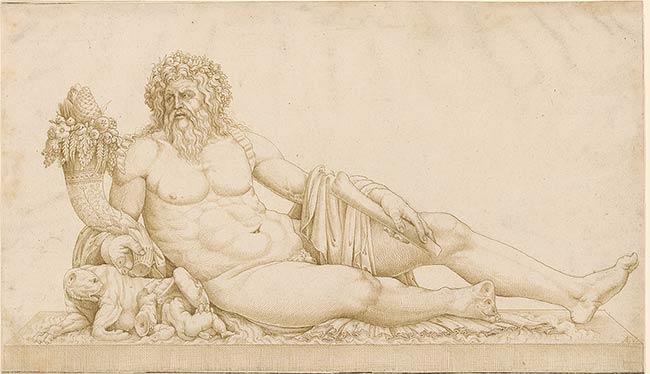 River-God after the Antique (Tiber)
Pen and brown ink, over black chalk, on laid paper; fragment of a framing line at lower edge in pen and black ink.
7 1/16 x 12 1/16 inches (178 x 306 mm)
Purchased by Pierpont Morgan (1837-1913) in 1909.
Inscription:
Inscribed at lower left, in pen and brown ink, with the artist's monogram, "AE.V. (the first two letters ligated)".
Provenance:
Dr. Edward J. Riggall (-1901 or before); his sale, Sotheby's, London, 8 June 1901, part of lot 481, "Aeneas Vico. Allegorical Figures of the Tiber, and the Nile, pen and ink (2)"; Charles Fairfax Murray (1849-1919), London and Florence; from whom purchased through Galerie Alexandre Imbert, Rome, in 1909 by Pierpont Morgan (1837-1913), New York (no mark; see Lugt 1509); his son, J. P. Morgan, Jr. (1867-1943), New York.
Description:
This sheet, along with another in the Morgan's collection, record Enea Vico's copies after two antique sculptures, the River God Tiber and the River God Nile, which were kept in the Cortile del Belvedere, the Vatican's sculpture courtyard.1 With slight variations, an engraved reproduction, generally accepted as by Nicolas Beatrizet, depicts the Tiber from the same point of view as in the present drawing.2
The colossal Tiber was excavated in January 1512 near S. Maria sopra Minerva, Rome, and Pope Julius II moved it to the statue court by 2 February 1512. Its counterpart, the Nile, was discovered after 1513, and moved by Pope Leo X to the middle of the courtyard, opposite the Tiber. The two antique sculptures are now separated, as the Tiber was moved to the Louvre, Paris, in 1797. As Vico's drawings show, the sculpture groups were damaged and had several losses. Restoration to both groups is recorded in 1524-25, though these repairs were not exhaustive, and the sculptures received their current form only after 1774 when Gaspare Sibilla was commissioned to restore them.3
Footnotes:
For Vico's drawing after the Nile, see Morgan Library & Museum, New York, inv. IV, 50. For the antique river gods, see Bober and Rubinstein 2010, 113-15, no. 66, 67.
The Illustrated Bartsch 29: 358-59, no. 96.
Brummer 1970, 195.
Bibliography:
Selected references: Fairfax Murray 1905-12, 4: 50; Brummer 1970, 191-95; Bober and Rubinstein 1986, 103, under no. 66 (as E. Vico?); Bodon 1997, 72-73; Bonn 1998-99, 232; Monbeig Goguel 1999, 56; Los Angeles 2007, 87, no. 74; Bober and Rubinstein 2010, 113, under no. 66 (as E. Vico?); New York 2019, 21.
Collection J. Pierpont Morgan : Drawings by the Old Masters Formed by C. Fairfax Murray. London : Privately printed, 1905-1912, IV, 50, repr.
Associated names:
Riggall, Edward, former owner.
Murray, Charles Fairfax, 1849-1919, former owner.
Morgan, J. Pierpont (John Pierpont), 1837-1913, former owner.
Morgan, J. P. (John Pierpont), 1867-1943, former owner.