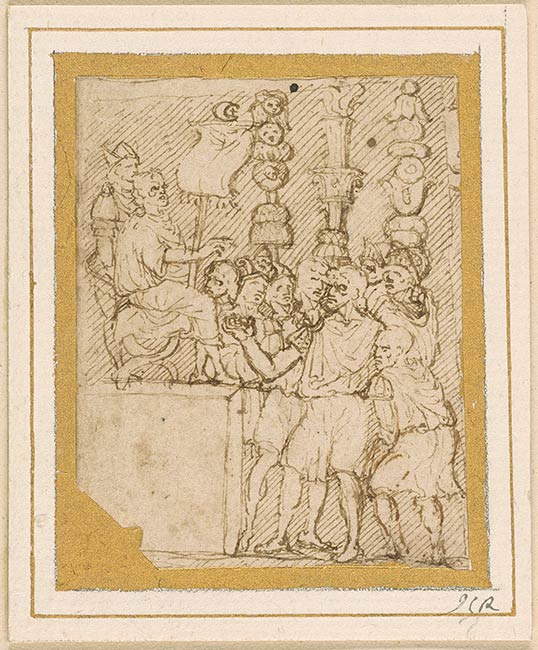 Attributed to Girolamo Genga
Copy after the Antonine Relief Depicting the Submission of the Barbarian Chief before the Enthroned Emperor from the Arch of Constantine
Pen and brown ink on paper.
2 9/16 x 2 inches (65 x 51 mm; maximum dimensions)
Purchased by Pierpont Morgan (1837-1913) in 1909.
Inscription:
Inscribed on verso of mount in graphite, "136 / di Gregorio Schiavone?".
Provenance:
Sir J. C. Robinson, London (Lugt 1433); Charles Fairfax Murray (1849-1919), London and Florence; from whom purchased through Galerie Alexandre Imbert, Rome, in 1909 by Pierpont Morgan (1837-1913), New York (no mark; see Lugt 1509); his son, J. P. Morgan, Jr. (1867-1943), New York.
Description:
This drawing is one of nineteen similar sketches distributed over two mounts in the Morgan's collection.1 The studies were drawn with two different brown inks, one lighter than the other, and mostly depict battle scenes and classical motifs. Some, like present drawing and inv. I, 43a: no. 137, copy identifiable antique reliefs, while others, like inv. I, 43b: no. 127, show soldiers in more contemporary armor.2 Previously classified as "attributed to" Girolamo Genga, Furio Rinaldi recently published the group for the first time, accepting them as by Genga in his reconstruction of the artist's graphic corpus.3 The Morgan drawings are similar in technique and style to other battle scenes drawn by Genga such as those now in the J. Paul Getty Museum, Los Angeles,4 and the Nationalmuseum, Stockholm.5 The Getty sheet, in particular, offers several points of comparison with the Morgan group. In addition to its shared subject matter – battling cavalrymen and an antique or all'antica frieze – the Getty study was also drawn using two different brown inks. Moreover, the two combatants right of center on the Getty sheet reoccur in inv. I, 43a: no. 132. The Morgan fragments must have been cut down from a larger sheet, like that at the Getty, before they entered the collection of Sir John Charles Robinson as his initials (L. 1433) appear below each of the nineteen fragments. Another small fragment, identified by Rinaldi as being from the same series as the Morgan drawings, is now in the Kunsthalle, Hamburg.6
In 1522, Genga became court artist and architect to Francesco Maria I della Rovere, Duke of Urbino, and was initially tasked with restoring the ducal properties in Urbino and Pesaro. In 1523, the artist was sent to Rome to collect building materials and, during this time, he made drawings which were sent to the duke. Rinaldi argues that the Morgan drawings reflect Genga's Roman study from this period and were used to develop a figural repertory to which the artist returned when designing the numerous battle scenes in the Palazzo Ducale and the Villa Imperiale Vecchia in Pesaro, ca. 1529-32.7
Footnotes:
Morgan Library & Museum, New York, inv. I, 43a: nos. 130-40; I, 43b: nos. 122-29.
Bober and Rubinstein 2010, 211-12, no. 162; Rinaldi 2014, 27.
Rinaldi, 2014, 27-28
J. Paul Getty Museum, Los Angeles, inv. 90.GA.131; Turner, Hendrix and Plazzotta 1997, 41, no. 17 (as Genga); Rinaldi 2014, 42, no. A23.
Nationalmuseum, Stockholm, inv. NMH 1384/1863; Washington and elsewhere 1985, no. 7 (as Genga); Rinaldi 2014, 42, no. A24.
Kunsthalle, Hamburg, inv. 52154; Rinaldi 2014, 49, no. B14.
Rinaldi 2014, 27-28.
Bibliography:
Selected references: Rinaldi 2014, 27-28, 49, no. B13-i (as Girolamo Genga).
Master Drawings, v. 52, no. 1, p. 27, 48-49, fig. 39, cat. no. B13-i ("Submissio", relief from the Arch of Constantine)
Notes:
Watermark: none.
One of 11 drawings on one mount, by same hand; some may have been cut from a single sheet.
Associated names:
Anonymous, Italian School, 16th cent., Formerly attributed to.
Schiavone, Andrea, approximately 1500-1563, Formerly attributed to.
Ćlinović, Juraj, approximately 1433-1504, Formerly attributed to.
Robinson, J. C. (John Charles), Sir, 1824-1913, former owner.
Murray, Charles Fairfax, 1849-1919, former owner.
Morgan, J. Pierpont (John Pierpont), 1837-1913, former owner.
Morgan, J. P. (John Pierpont), 1867-1943, former owner.