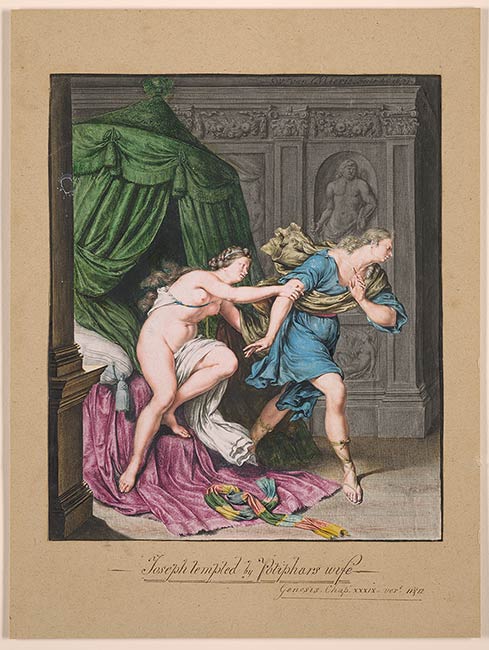 Joseph and Potiphar's Wife: Genesis 39:11-12
Point of brush and opaque watercolor, over black chalk, on parchment; ruled border in pen and black ink.
6 3/4 x 5 11/16 inches (170 x 143 mm)
Purchased on the Sunny Crawford von Bülow Fund 1978.
Inscription:
Signed and dated at upper right, in black ink, "W. van Mieris Fecit Annα 1693". Inscribed on the old mount, below drawing, in brown ink, "Joseph tempted by Potiphars wife - / Genesis. Chap.xxxix = vers [s superscript] 11 & 12". Signed and dated on separate piece of card, now attached to back lining of drawing, in brown ink, "W.v. Mieris Fecit Anno 1693".
Provenance:
Probably Jonas Witsen II (1676-1715), Amsterdam; his grandson, Jonas Witsen (1733-1788), Amsterdam; his sale, Amsterdam, Terwen and de Bosch, 16 August 1790, Album B, lot 4 (to de Groot for 39 fl.); J. de Groot; his sale, Amsterdam, 10 December 1804, Album E, lot 17; C.S. Roos, Amsterdam; G. van Nijmegen; his sale, Amsterdam, 20 March 1809, Album F, lot 32 (to "IJver"); Hendrik van Eyl Sluyter (1741-1816), Amsterdam; his sale, Amsterdam, van der Schley...de Vries, 26 September 1814, Album D, lot 20; possibly J. Hoofman or P.N. Quarles van Ufford; possibly their sale, Amsterdam, 19 October 1818, Album D, lots 37-9; private collection, France; acquired from Bob P. Haboldt & Co., New York and Paris.
Bibliography:
Jane Shoaf Turner, with contributions by Felice Stampfle, Dutch Drawings in the Pierpont Morgan Library: Seventeenth to Nineteenth Centuries, New York, 2006, cat. no. 399.
Notes:
The sheet and another similar opaque watercolor, representing "Joseph Interpreting Pharaoh's Dream" (Genesis 41:25-32), which was also recently on the market with Haboldt & Co., form part of a series of 20 small, but highly finished drawings that van Mieris made over a period of five years between 1691 and 1696. This pair, dated 1693 and 1694 respectively, is from the middle of the period. The entire group has been traced to the catalogue of the 1790 sale of the Amsterdam citizen Jonas Witsen, where all 20 drawings are described in detail, scattered in eight different albums. The whereabouts of half the drawings can be accounted for, with examples in other public collections, such as the Rijksmuseum, Amsterdam, the Prentenkabinet der Rijksuniversiteit, Leiden, the British Museum, London, and the Museum Boymans-van Beuningen, Rotterdam.
Associated names:
Witsen, Jonas, 1676-1715, former owner.
Witsen, Jonas, 1733-1788, former owner.
Groot, J. de, former owner.
Roos, C. S., former owner.
Nijmegen, G. van, former owner.
Sluyter, Hendrik van Eyl, 1741-1816, former owner.
Hoofman, J., former owner.
Quarles van Ufford, P. N., former owner.