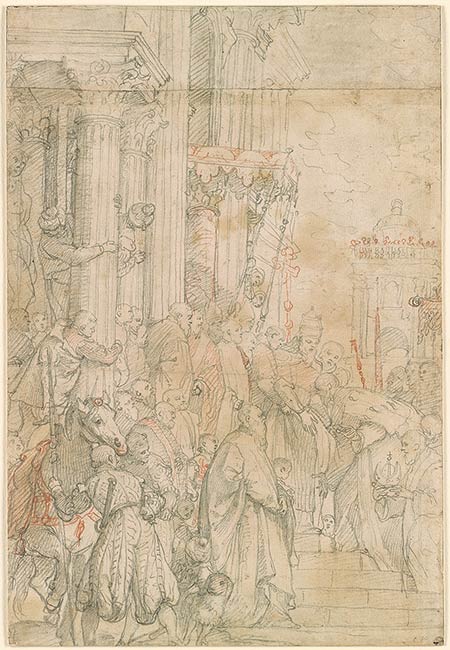 Frederick Barbarossa Kisses the Hand of the Schismatic Pope Victor IV, after Veronese
Black and red chalk, on two pieces of paper joined horizontally from the top; remnants of framing lines in black ink.
on sheet: 13 1/4 x 9 inches (336 x 228 mm); added strip: 1 11/16 inches, at top
Inscription:
Inscribed at lower right, in graphite, "c 30"; on verso of lining, at upper center, in pen and brown ink, [illegible, cropped]; at lower left, in graphite, "Zucchero 241".
Provenance:
Padre Sebastiano Resta?, Milan (1635-1714; no mark; see Lugt 2992); John Lord Somers? (1650-1716; no mark; see Lugt 2981); Jean-Denis Lempereur, Paris (1701-1779; Lugt 1740); Sir Thomas Lawrence, London (1769-1830; Lugt 2445); Samuel Woodburn, London (1786-1853; no mark; see Lugt 2584); Lawrence-Woodburn sale, London, Christie's 4-8 June 1860, part of lot 1074; Sir Thomas Phillips, London (1792-1872; no mark; see Lugt S. 924b); by descent to T. Fitzroy Phillips Fenwick; A.S.W. Rosenbach, Philadelphia; John Fleming, New York; from whom acquired by János Scholz, New York (no mark; see Lugt S. 2933b).
Notes:
Watermark: none visible through lining.
The present drawing recently has been identified as a copy by Federico Zuccaro after Paolo Veronese's "Federico Barbarossa Submits to the Schismatic Pope Vittore IV", created in 1562-64 for the Sala del Maggior Consiglio in the Ducal Palace in Venice and destroyed by fire in 1577.