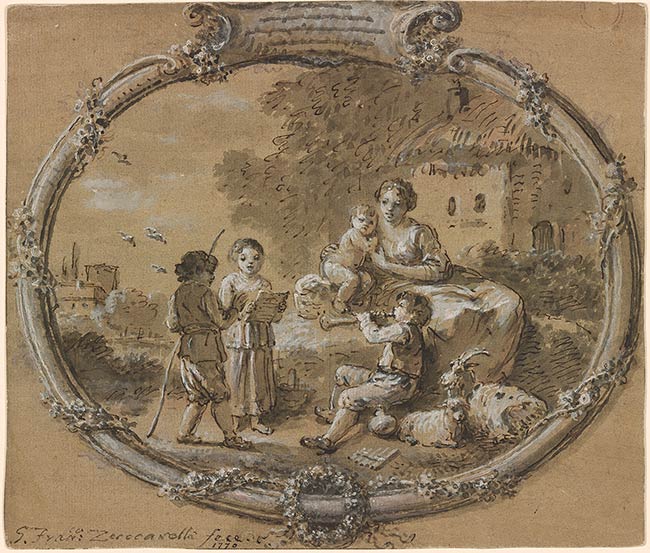 Pastoral Landscape with Children Making Music for Their Mother
Pen and brown ink, gray wash, with red chalk wash, over black chalk, on paper prepared with a brown wash.
8 x 9 7/16 inches (204 x 239 mm)
Purchased as the gift of Mrs. Rudolf Heinemann, Mr. P. Angus Morgan, and the Markus Foundation.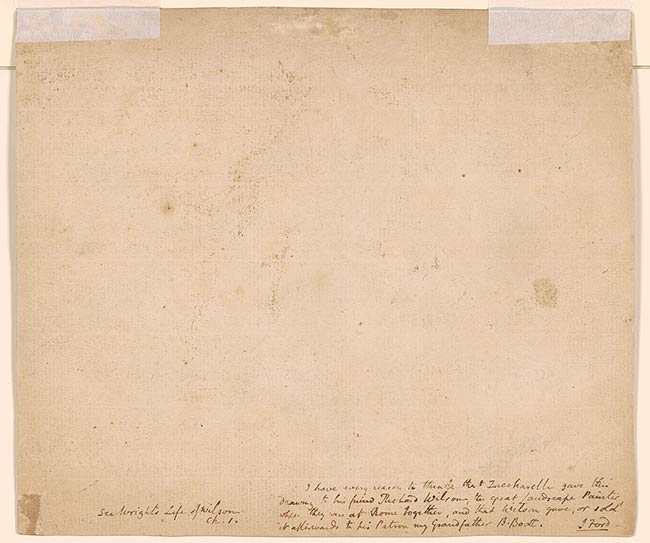 Inscription:
Signed and dated in pen and brown ink below, "G. Fran.co [co in superscript] Zuccarelli fece.t / 1770"; inscribed on back of lining in pen and brown ink, "I have every reason to think that Zuccharelli gave this / to his friend Richard Wilson, the great Landscape Painter / when they were at Rome together, and that Wilson gave, or sold / it afterwards to his Patron my Grandfather B. Booth. J. Ford"; at left, in same hand, "see Wright's, Life of Wilson / ch. 1".
Provenance:
Probably Richard Wilson; Benjamin Booth; Rev. James Ford; sale, New York, Sotheby's, 16 January 1986, lot 119, repr.
Bibliography:
Ryskamp, Charles, ed. Twenty-First Report to the Fellows of the Pierpont Morgan Library, 1984-1986. New York : Pierpont Morgan Library, 1989, p. 389.
Associated names:
Wilson, Richard, 1713-1782, former owner.
Booth, Benjamin, former owner.
Ford, James, Rev., former owner.
Heinemann, Lore, donor.
Morgan, P. Angus, donor.