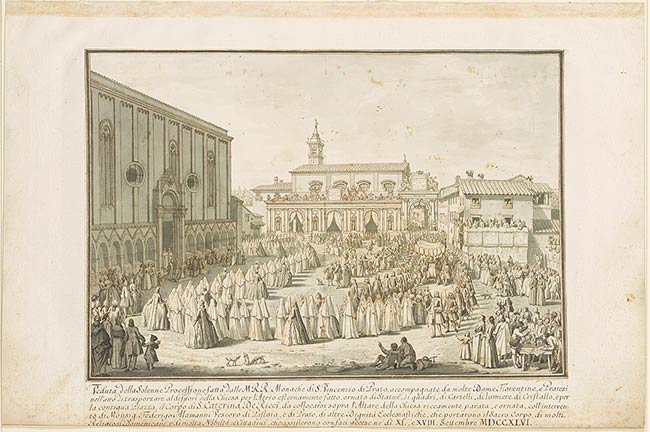 A Religious Procession Outside the Church of San Vincenzio in Prato Attendant on the Canonization of S. Caterina de' Ricci in 1746
Pen and brown and gray ink, with gray wash, on paper; framing lines in brown and gray ink.
11 1/16 x 17 1/16 inches (280 x 433 mm)
Gift of Mr. Junius S. Morgan and Mr. Henry S. Morgan.
Inscription:
Inscribed on mount below drawing, in pen and brown ink, "Veduta della Solenne Processione fatta dalle M.R.R. Monache di S. Vincenzio di Prato, accompagnate da molte Dame Fiorentine, e Pratesi / nell'atto di trasportare al di fuori della Chiesa per 'Altrio esternamante fatto, ornato di Statue, di quadri, di Cartelli, di lumiere di Cristallo, e per / la contigua Piazza, il Corpo di S. Caterina De Ricci, da Collocarsi sopra l'Altare della chiesa riccamente parata, e ornata, coll'interven: / to di Monsig: Federigo Alamanni Vescovo di Pistoia, e di Prato, di altare Dignità Ecclesiastiche, che portarono il Sacro Corpo, di molti / Religiosi Domenicani, e di molta Nobilità, e Cittadini, che assistarono con faci eccese ne' di XI., e XVIII. Settembre., MDCCXLVI."
Provenance:
Mrs. J.P. Morgan, New York; by descent to her sons Junius S. and Henry S. Morgan.
Bibliography:
Adams, Frederick B., Jr. Fourth Annual Report to the Fellows of the Pierpont Morgan Library. New York : Pierpont Morgan Library, 1953, p. 63-64.
Pierpont Morgan Library. Review of Acquisitions, 1949-1968. New York : Pierpont Morgan Library, 1969, p. 178.
Associated names:
Morgan, Jane Norton, 1868-1925, former owner.
Morgan, Junius Spencer, 1892-1960, former owner.
Morgan, Henry S. (Henry Sturgis), 1900-1982, former owner.